A motorcycle locksmith should be your first stop when there is anything wrong with the locks or keys on your motorcycle. Whether you have a dirt bike, chopper, or street bike, a motorcycle locksmith near you can make keys, open locks, fix locks, and replace almost any security feature that isn't working. We are here to help you with your motorcycle security no matter where you are. With mobile motorcycle locksmith services, a technician can bring their tools and experience directly to you and our two wheels.
Common reasons you need a motorcycle locksmith:
1. I Need New Motorcycle Keys
Most commonly, motorcycle keys are considered to be the manufacturer-supplied keys that work the ignition, gas cap, and storage compartments (seat or side storage). Factory-made keys for motorcycles tend to be made of softer metal than car keys and house keys. Softer metal bends easier, which will prevent the key from working in functioning locks.
A bent motorcycle key can be difficult to diagnose as the bend may be imperceptible and the key may still work on another lock. Because motorcycle ignitions are often deeper than the keyed-alike gas cap and storage lock cylinders, a key meant to work in all three may work when it does not need to be fully inserted.
How do you get better motorcycle keys? Call a mobile motorcycle locksmith who knows the dangers of aftermarket keys, and has key blanks for your make and model with stronger metal. This is going to keep you from going through key after key, as they bend and deform through basic daily use. In the event you have lost the key, a locksmith can also make a new key from a lock by decoding the lock or looking up the key code.
Top tips for new motorcycle keys:
Manufacturer keys can be soft and bend easily during daily use.
Stronger aftermarket keys are available through a motorcycle locksmith.
If a key works in one motorcycle lock and not another, consider getting a new key.
A motorcycle locksmith can make new motorcycles without the original.
2. I Broke My Key Off In My Motorcycle
As mentioned above, motorcycle keys are soft, and this makes snapping and breaking off in locks more common. A mobile motorcycle locksmith can come to you and remove the broken key from the lock. It is a good idea to have the locksmith handle this rather than try to remove any key fragments yourself and damage an ignition or the other keyed-alike cylinders. Don't let one broken key result in a broken lock, let alone a broken ignition. But in the event, you do break either a lock or ignition, these can be replaced or repaired by a locksmith.
A locksmith can also copy a broken key if you do not have a working spare. New motorcycle keys can use stronger metal through aftermarket blanks so that you are less likely to experience this problem again. However, be aware that every type of key can break. No matter what kind of motorcycle key you have, be careful and do not over-torque your key.
Top tips for broken keys in a motorcycle:
Manufacturer motorcycle keys can break more easily than other key types.
A motorcycle locksmith can make copies of your broken key.
Locksmiths can provide customers with stronger keys, less likely to break.
3. My Motorcycle Seat Locks Aren't Working
Whether you have custom seat locks, factory seat locks, or aftermarket seat locks, a locksmith can open them, fix them, or replace them. A motorcycle locksmith can look at your key and the lock and diagnose the problem you are having. Depending on your situation, a locksmith will also be able to guide you as to what solution is best for you. For example, what you think is a broken seat lock could be a broken key.
If you have lost the key for a motorcycle seat, it is often possible to make a new key from the lock. As long as the key profile for your seat lock is available, a blank can be cut. If you have a classic bike or a custom seat lock, this could get a little tricky as nonstandard or specialty parts may need to be ordered. A locksmith can still open your motorcycle seat storage, no matter the lock type. There is always a way to open a lock, and locksmiths know them all.
Top tips for malfunctioning motorcycle seat locks:
A mobile motorcycle locksmith can replace, fix, or open motorcycle seat locks.
Your key may be broken, and not your seat lock.
Classic or custom seat lock replacement may require parts to be ordered.
4. My Motorcycle Padlock Won't Open
Many motorcycle riders secure their bikes with a padlock and chain. This provides a good bit of additional security for your bike, but if your lock jams, you lose your key or the key breaks, you need a locksmith. Unless you have the best padlock ever made, any quality mobile motorcycle locksmith should be able to open the padlock. If the padlock is entirely broken, the locksmith may determine it is best to cut the lock or chain.

If you are replacing your padlock after the locksmith service, be sure to invest in something that has a shackle shroud, keyway protection, and cutting protection. The reason to use a padlock and chain is to make it more difficult for thieves to steal your bike. If you are using a subpar padlock or a weak chain, you are not providing the proper protection. Your locksmith can also advise you as to what you can look for if you need to upgrade your security.
Top tips for motorcycle padlock problems:
If you can't open your motorcycle padlock, call a locksmith.
Locksmiths can make replacement keys for padlock locks.
Make sure the lock and chain are high enough quality to protect your bike.
5. I Can't Open My Motorcycle Wheel Locks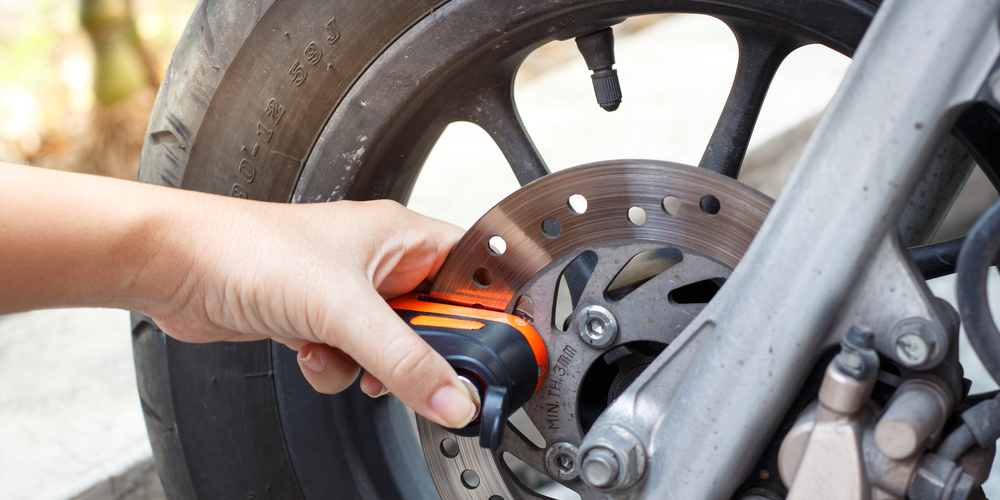 Similar to padlocks, motorcycle wheel locks are additional protection purchased through third-party manufacturers. The quality of these products can vary wildly, but a mobile motorcycle locksmith will be able to open any wheel locks. Methods of entry are not all destructive, there are instances where the lock may be able to open without being destroyed. For picking the lock or bypassing to work, the internal mechanisms must be functioning properly.
As secure as you might think your Xena or Kryptonite lock is, a trained professional can remove them. It is also important to know that they are not fool-proof when it comes to theft either. Motorcycle thieves use a variety of brute force methods to steal bikes, including simply lifting the vehicle into the back of a truck. Consider talking to a motorcycle locksmith about using anchor points to provide better security.
Top tips for malfunctioning wheel locks:
Forcing a wheel lock open can potentially damage your motorcycle.
Before breaking your lock, consult a professional to see if the lock can be saved.
A mobile motorcycle locksmith can open any high-security wheel lock.
6. Helmet Lock Is Broken
If you cannot unlock your helmet because of a broken lock, call a locksmith. Getting your helmet back is going to be cheaper than paying the ticket, and certainly cheaper than the hospital bills and rehabilitation. Make the best decision for yourself or the person riding with you, and use the helmet you already brought with you. If you just need to cut a cheap strand of braided metal, you might just need some wire cutters, but sturdier cables and locks may require professional tools. A locksmith has the tools to open your helmet lock.
Be aware that even though the helmet lock you purchased might have been expensive, the cost associated with that price was put into the destructive entry protections. The key cylinder and key are often where companies cut costs. This is likely the reason that the lock has broken. But even a broken high-security helmet lock is no match for the skills of a trained motorcycle locksmith. If your helmet lock is broken so it won't lock, you may need a new lock, as the cheap internal mechanisms are often not built to be taken apart and serviced.
Top tips for broken helmet locks:
If you cannot open a broken helmet lock with your tools, call a locksmith.
A mobile motorcycle locksmith has the tools to open any broken helmet lock.
Helmet locks are impossible to repair if the device is not designed to be taken apart and put back together.
7. Gas Cap Lock Won't Open
Being locked out of your gas tank is a serious issue, and is most likely the result of a broken key. You can test to see if your key is broken if your gas cap lock and ignition cylinder are keyed alike (both use the same key). If the key will not start the engine or open the gas cap, it is more likely a broken key than two broken locks. Sometimes you can fix a broken key that is bent by bending it in the opposite direction, but even if this works, it is not a permanent solution.
If the key functions normally in other locks, then the lock cylinder on the gas cap may need to be replaced. When you are testing your key, be sure not to excessively twist the blade in the stuck lock. If the key is not broken already, you may damage the key by over-torquing the metal. For help diagnosing the cause of this issue and finding a solution, contact a motorcycle locksmith. Lock cylinder replacement and making new keys are two very standard services that are offered by professionals.
Top tips for stuck gas cap locks:
Chances are the key is broken and not the gas cap lock.
Troubleshoot the lock with a spare key or use your existing key in other keyed-alike locks.
A locksmith can replace a broken motorcycle key or the lock cylinder.
8. Motorcycle Bag Locks Are Stuck
Motorcycle saddlebags come in all shapes and sizes, but we are only talking about the lockable bags in this case. Speaking of cases, factory-made cases that come pre-installed are often keyed the same as the gas cap and ignition cylinder. This allows you to test out spare keys and your other locks to determine whether the key or the bag lock is broken. It is an extremely similar situation to gas cap locks.
Bag locks can also be from third-party manufacturers, which have similar concerns to broken padlocks, helmet locks, and wheel locks. Mainly that new key blanks may be more difficult to find, and the lock cylinders may not be replaceable/removable. In any case, call a motorcycle locksmith to sort out your malfunctioning motorcycle bag locks.
Top tips for fixing motorcycle bag locks:
If the bag lock uses the same key as another lock, test the key on the second lock.
Third-party motorcycle bags may need to be replaced if damage is too severe.
The best way to get back into your motorcycle bag is to call a locksmith.
9. I Need To Replace My Motorcycle Ignition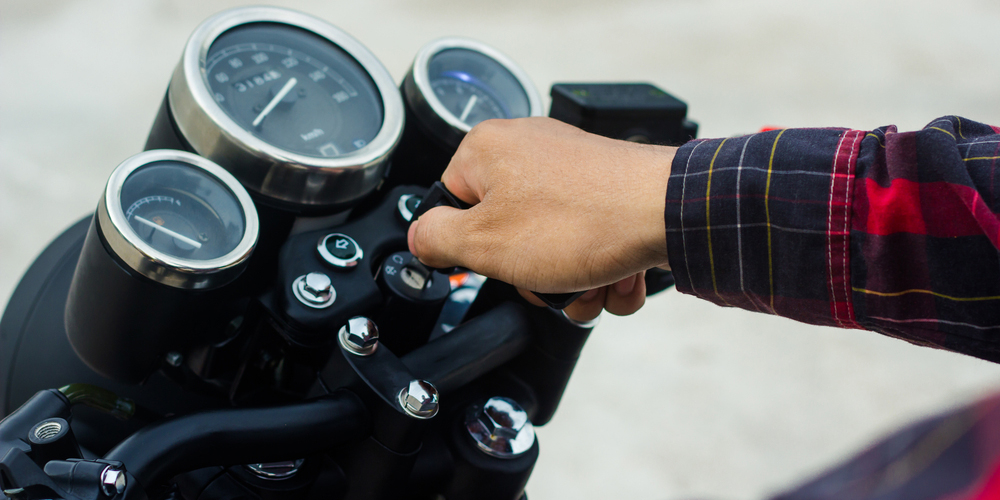 Probably the most troubling issue you can have with your motorcycle is a faulty or broken ignition cylinder. If the key is stuck in the ignition, you will need to remove the key before further servicing. But before you go through all the trouble of replacing a motorcycle ignition, call a locksmith for a second opinion. As we have already discussed, motorcycle keys can easily bend to the point where they are unusable.
Sometimes that key will work on the gas cap and the bag locks, but the key won't turn in the ignition. This is because motorcycle keys often only partially insert into gas cap locks, and if damaged further up the key blade will work partially and not fully. A locksmith will be able to test the keys and the ignition and get to the root of the issue. After diagnosing the problem, a mobile motorcycle locksmith can either make new keys or replace the ignition.
Top tips for fixing a motorcycle ignition:
Make sure the problem is the ignition and not the key.
If the keyway is obstructed, begin by clearing the keyway.
Call a motorcycle locksmith to find the best solution to your issue.
Final Considerations
Make sure that you are calling a professional who has specific experience with motorcycle security. When looking for service, you need to be more specific with your search than the vagueness of something like, "mobile motorcycle locksmith near me." Most automotive locksmiths can sort through some of these issues, but it is always best to go with the service technicians that have the specialty tools and training for these specific jobs. Get the work done right and keep your bike safe by calling United Locksmith.