People usually think of locks as the first line of defense when it comes to home security. Surprisingly your doors play a significant role as well. If you have an older poorly constructed wooden or hollow door for instance, no matter what lock you have on the door, an intruder may still be able to easily kick in the door to circumvent the lock and gain entry. A high-quality exterior door can be instrumental in deterring unwanted visitors, and is as equally important as the locking system itself.
Materials
Door materials can vary considerably so educating yourself on the various materials is a good place to start. Steel, wood, and fiberglass are the most common materials used, followed by aluminum and glass.
Steel
Steel doors are the most cost effective choice for those living in areas that are mostly dry. This material tends to rust in areas that are humid with heavy rain conditions. Hollow steel doors with deadbolts have been known to be compromised with a crowbar. The best option is to choose a solid core 1-¾ inches with a quality deadbolt that has a strike plate screwed through the jamb and into the 2×4 trimmer. The secret to having the highest level of security with a steel door is to have a steel frame. The downside is that steel doors are prone to scratches, rust, and dents and many people install a steel door with a wood frame which with one good pry with a crowbar can easily splinter the wood around the door. A solid steel door with a steel frame is the best choice.
Wood
For those searching for a classic and elegant look, wood doors are the material of choice. They come in all kinds of standard variations with the ability to upgrade to customized, handcrafted models. Wood doors can withstand most weather conditions. The downside is that wood doors can warp and rot, and can easily be dented, thereby requiring more maintenance. A heavy oak door with a crossbeam is a reliable choice.
Fiberglass
Fiberglass is as strong as steel and can be as attractive as wood and has better insulation than both. A fiberglass door is slightly more costly, but they are becoming more popular because they are the easiest to maintain. They are ideal for any type of climate condition since they don't expand or contract in response to changing weather. This material offers the most design versatility since it can be painted to match outside exterior trims or include customized finishes, which can make the door look like other materials such as wood. Fiberglass doors are durable, energy efficient and low maintenance. Many people think steel doors are more secure but fiberglass doors can have interior steel frames that provide the same support. They are compatible with most locking systems on the market.
Glass
If you want glass doors or some part of the door to be glass, choose an opacity of texturized glass that lets light in without sacrificing your privacy and security. You can check the privacy rating which runs from 0 to 10, 0 being the most transparent to 10 being the most opaque. By this measurement system, a level 10 glass would not be completely opaque to visible light, but you wouldn't be able to make out any images looking through it. There are varying grades of glass that can range from those that are easily shattered to completely shatterproof so it's important to do your research to choose the one that will offer you the best security.
If you're concerned about energy efficiency, many exterior doors of various materials are now made to be secure and energy efficient which is determined by a combination of the door, the framework, windows and various other factors. Steel and fiberglass tend to be better insulated than wood doors. The federal EPA's EnergyStar Program outlines details about how doors are tested and certified.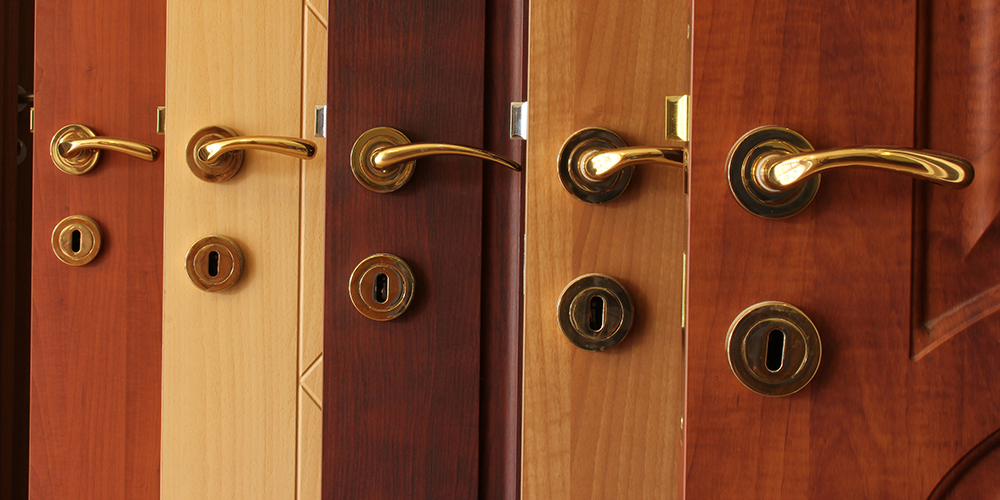 Security Testing
Consumer Reports performed a battering test on a set of solid doors made of fiberglass, steel and wood they found that the most important point of security was actually the door jamb that split near the lock strike plate nearly every time. They also found that beefed-up locks and strike plates greatly increase a door's kick-in resistance. Having the right combination of a solid door, door jamb, strike plate and locks are the most effective way to secure your home. Using a lock with a 1-inch deadbolt and a reinforced metal box strike and 3-inch mounting screws to lodge in the framing beyond the door jamb can greatly improve the performance of your security. The most overlooked point of access for homeowners is a door that leads into the garage that is attached to the home, so make sure you apply these principles with all doors that gain entrance to your home.
Some doors like those made by Master Security stand up to intruders, hurricanes, fires and are even bulletproof. The company first started making extra strong doors in 1974, designed by an Italian engineer who wanted something more security proof for his own home. Today, Master Security Doors sells solid steel doors worldwide. The door incorporates four deadbolts and an anti-pick lock that makes it very difficult to penetrate. The ultra strong door is made of all 12 gauge steel. The steel casts are made in Italy. They start with sheets of galvanized steel with added reinforcements for extra strength. These doors have over 750-panel selections to dress the door with any design you'd like and even have designers who can customize the door design for you. The panels are carved out of either wood or fiber resin and attached to the steel base. These doors are made to withstand hurricane force winds up to 250 mph and tested by a cannon and a 2×4 for flying debris caused by storms. They then have four guys each take their best shot with a sledgehammer on the door for over ten minutes. Most doors would be sawdust after this kind of abuse. At that point, they try to pry it open with no luck of gaining entry. The solid steel door keeps everything out even gunfire, lumbar cannons and a raging fire, all to keep you safe inside.
Sur Celik Kapi performed a test with their solid steel door and a cheaper steel door model. Two of their guys took a sledgehammer to each. They were able to make a clear break through the cheaper door model by the 19th stroke in just one minute and 52 seconds. They then took a battering ram to it and after two strikes, all locks and the door itself became totally useless. On the Sur Celik Kapi door, it took 93 strikes before the test was suspended due to the fatigue of the crew.
Taking both of these company tests into consideration, it's always better to choose a solid door over a hollow door structure. Make sure the door you choose has been tested by a credible third party company that tests products worldwide. Based on these tests, a rating number is assigned to each door indicating highest to lowest effectiveness. Also, verify that the company offers a guarantee to stand behind the product. For instance, if the guarantee states that the door is guaranteed against theft, the warranty should state that if a break-in does occur, that the company will compensate you for your loss according to the terms and limits or at the very least replace the door.
Conclusion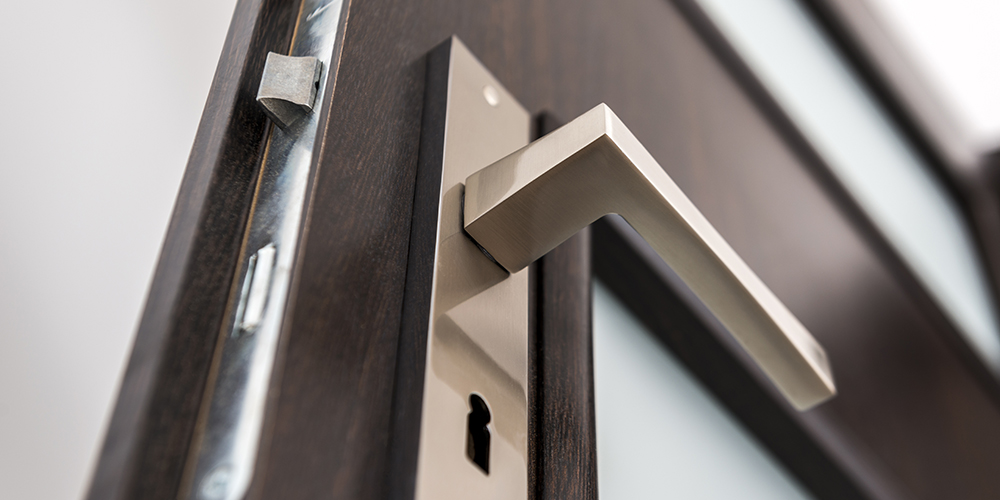 The combination of a solid door and a great locking system are the two most important cost effective methods to secure your home. Most people have a common locking system with a standard deadbolt that engages at a strike plate. Using a solid door with a multi-point locking system can provide increased security because it engages the frame at three points. This also keeps the door square with the frame to maximize the seal. Installing a strike plate rated at the highest industry grade level is recommended which can withstand 3 to 4 times more force than standard strike plates. For maximum security, the Smooth-Star entry door is a good choice. It has received the highest level possible in the industry's toughest forced entry test, tested to ASTM F-476 Section 18 Grade 40 by an independent lab. There are some other great security products on the market today as well. The most important thing to note is that nearly any home can be secured with a solid door and complementary hardware at an affordable price