A safe is an investment. Before starting the research process into the type of safes that can protect your belongings, ask yourself if you have valuables that warrant a significant investment in protection. I would say that everything warrants significant protection, but I will not be buying your safe. The price of the safe needs to be something that the buyer can justify to themselves. If you don't want to buy something built sturdy and secure, and just want a safe, then you probably don't need a safe. If you just want to keep your kids out of your guns or don't want people seeing your files, a cabinet with a lock can do that. This is an article about safes. Safes are security. This is not about concealment or layers of security. Layers are of course the best way to protect your home from criminals, but this piece will focus on the best safe companies. What makes them superior, and by that same logic, what makes them expensive. Everyone is on a budget, but even homes can be purchased on a budget. All of these companies will have several models, varying in price and protection. Rest assured, with these brands, a larger investment will provide additional protection.
Education
The unfortunate thing about most safe companies is that so many do not advertise their product's specific security and construction. As a result, you will have to know what questions to ask. When asking your questions, you should also know what answers you want to hear. Buying blind, or buying without independent research might end in a large purchase that does not offer the right protection. You have probably seen Weapons Education's video about safes, and if you have not I recommend checking it out, but here are the points you want to focus on.
Steel Content
Find out the steel content for the body and the door. The body of most safes is ½ to ⅓ the metal content of the door. The gauge of the steel is also important. 12 gauge is the lowest gauge steel that the department of justice allows to call an item a safe. A Fire Axe will split 12 gauge steel. As the number decreases, the strength of the steel increases. Example: 12 gauge steel is two ratings lower than 10 gauge steel. Additional stainless steel layers will disperse heat from torch attacks, as well as provide added strength. Be wary of composite doors, as their thickness does not represent the steel content.
Welding
For the sturdiest construction, you want to buy a safe with a continuous weld. That means that the weld is used to fuse two metal pieces. A continuous weld varies greatly from a spot weld. A spot weld is significantly weaker and uses binding points that can be compromised. Sledge hammers can be used to break spot welds, but there are several other ways to take apart spot welded metal. You can drill out the spot welds, burn them out with a torch, or use a specific spot weld removal tool. The end result of a continuous weld is a solid piece of metal.
Fire Resistance Standards
Almost every safe company uses different standards to measure fire resistance. And despite some very bold claims, there is no safe that is fireproof. When you are finding out the company's specific testing criteria pay attention to the heat that the safe was tested at and how long the test was run. A low temperature and a high resistance time might be the same as a high temperature and a low resistance time. If the company cannot, or is unwilling, to tell you how they test their safes, I would recommend not purchasing the product. Fire resistance is an important purchasing factor, and a lack of information makes you vulnerable to loss.
Bolt Work Assembly
The bolt work is going to take up the most space on the door. The assembly of these internal mechanisms will provide protection against more advanced attacks. If the bolt work is composed in such a way that links the locking bolts to the cam (or similar device), sticking the bolts may open the safe. Pay attention to the steel in the locking bolts as well. The longer the bolts extend into the frame of the door the stronger the safe will hold. The thickness of the bolts will also offer you protection from attacks. Lock bolts that rotate will also increase protection by moving when cutting attempts are made.
Warranty and Manufacturing

A lifetime warranty says a lot about a company. It means they have faith in their product's ability and that they hold themselves to a higher standard. Warranties might also vary depending on the components. Often electronic locks and dials are not made by the safe manufacturer but are instead purchased from a third party. The dial might have a separate warranty, and this is not a reflection on the safe company unless the lock is low quality. Also, pay attention to where the safe is manufactured. A safe that is made in China might have a lifetime warranty because it costs little to replace it. At the risk of sounding ethnocentric, the best option is to buy American. U.S. factories allow for quality control and deliver a higher standard. Be aware that even though the company does manufacture in the U.S. that it might have certain models assembled in China.
American Security (AMSEC)
Overview
American Security Company has very clear warranty conditions that are available on their website. The UL fire resistive rating methodology is also on their website, and it is quite an impressive set of standards. 1-hour testing is done at a temperature of 1700º Fahrenheit (about 927º Celsius). 2-hour testing is done at a temperature of 1850º Fahrenheit (1010º Celsius). In order to pass the endurance test, the internal temperature of the safe must never exceed 350º Fahrenheit. Their burglary rating is also detailed to the UL's specifications. The burglary science is a little too advanced to explain in an overview, but I do encourage potential buyers to review it themselves. When AMSEC gives their tag to a safe model saying it is fire and burglary resistant, these are the standards that it is holding the product to. Not all of their models pass these requirements, but if they do not, there will be no misleading information posted on the safe.
Pros
Higher end models are built with clear scientific standards.
Criteria for safes to be called fire resistant and burglary resistant are demanding.
Tight openings between the door and the body make pry bar attacks very difficult.
High security safes are built in the United States.
Cons
Lack of customizability limits potential protection.
Fort Knox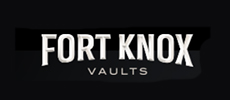 Overview
Everyone always talks about Fort Knox, so we will too. This brand has set a new standard that other companies are forced to compare themselves to. Go to their warranty page and the first thing you will read is, "Lifetime Warranty". Their site has seemingly endless buttons challenging you to "Build & Price Your Vault", but before you do that you can see the "Fort Knox Difference". Customers can see cutaway diagrams that show the composition of the safe doors, interior options, and their fire resistance results. Their lowest end, Entry level safe will withstand a peak temperature of 1200º Fahrenheit (about 649º Celsius) for 45 minutes. The safety standards for burglary are not specified on the site. There is a significant gap between the door and the safe body that looks like it would fit a pry bar. The starting price for these safes begin at $1,200 and go up from there. The company allows for quite a bit of customization, but the door gap does seem to be standard.
Pros
Basic models have acceptable fire resistance.
Every safe is built in the United States.
Customization creates great potential for security.
Lifetime Warranty.
Cons
Gap between the door and the body make pry bar attacks possible.
There is no burglary resistance testing described on the site.
Seems that you may be paying more for the name than you are for the protection.
Sturdy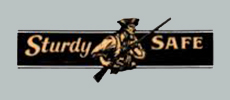 Overview
The Sturdy Safe Company is very transparent in how their products are designed and manufactured. If you go onto the company website or their youtube page, you can find many videos detailing just how sturdy their products are. Everything from the bolt manipulation to pry attacks (manual and mechanical) are shown to be ultimately useless against these safes. The site has a very informative page about how the safes' are insulated from fire damage, but more than that there is a customer testimonial. A Sturdy safe customer by the name of Stan had his house burn down in a fire that lasted 1 hour and 20 minutes. The contents of the safe had almost no damage, and it is reported that some of the responding firefighters were so impressed, they bought Sturdy safes for themselves. Pictures and video can be found on their site.
If anecdotal evidence is not enough (and it shouldn't be) Sturdy's website offers tons of information on the construction and size of the steel it uses. At the lowest end, the steel falls somewhere between a 6 or a 7 gauge, and that is for the safe body. The videos on the steel stress test will say more than steel content numbers ever could. The company sells many safe models as well as offering custom safe designs. The cheapest available safe is $737 with dimensions of 20″ W 18″ D 20″ H. From there, the dimensions increase, and so does the price. The company has been making safes for 53 years. During their existence, they have remained operated and owned by the same family. All safes are 100% American made and exceed the UL safety requirements. And if that is not enough, all safes come with a lifetime warranty.
Pros
Documented and proven security.
Every safe is built in the United States.
Customization creates great potential for security.
Lifetime Warranty.
Cons
Safes are very plain looking.
Homeland Security Safes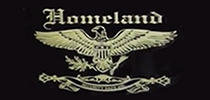 Overview
Made in the United States. Check. Lifetime warranty. Check. The fireproofing on the safe will protect your valuables, on the lowest priced models, for 45 minutes at a peak temperature of 1500º Fahrenheit (about 816º Celsius). With customization, or in higher priced models, the safes can withstand 60 minutes with a peak temperature of 2300º Fahrenheit (1260º Celsius). The safe is also made with anti-pry construction, that makes it harder for burglars to leverage open the safe door.
Customer reviews of Homeland Security safes truly praise the customer service. One customer stated that they would send him periodic messages and photos of the manufacturing process. Customer service is going to be key if you want to purchase a custom safe, which Home Security does offer. On their Facebook page, you can even see custom designs they have made for patrons. Designs include Dodgers, Sons of Anarchy, 49s, etc. Their high-security safes start at $1,099 and increase with customization, additional features, and larger sizes.
Pros
Customizable paint designs.
Lifetime Warranty.
Every safe is built in the United States.
Customization creates great potential for security.
Cons
There is no burglary resistance testing described on the site.
Vault Pro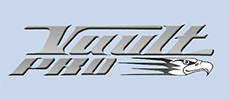 Overview
Vault Pro makes all of its safes in their US factory. The company has three basic series of safes, but will build to your exact specifications. All the models are customizable for a further increase in security. Vault Pro has competitive internet pricing and each model details its basic characteristics. The company has a highly informative video with their owner walking you through how the safes are made, and the logic that they use to base all of the safety standards. The doors are dime tight (cannot slip a dime between the body and the door) which make pry attacks a non-starter. The steel on the cheapest model starts with a ½ inch plate of 10 gauge steel.
Every model is made with a continuous weld giving the safe a sturdier construction. The bare minimum temperature their cheapest safe will handle is 1200º Fahrenheit (about 649º Celsius) for one hour. That same model can be customized with ceramic fireproofing to withstand 2300º Fahrenheit (1260º Celsius) for one hour. The metal can also keep getting thicker. This company really does leave the possibilities to your imagination. They will make you a vault door if that is what you desire. The company will even build the safe to specific height and width requirements. The price starts at $1599 and goes up to whatever your heart desires. Warranty information can also be found on their site.
Pros
Basic models have extensive fire resistance.
Customization creates limitless potential for security.
Customizable paint designs.
Tight openings between the door and the body make pry bar attacks very difficult.
Every safe is built in the United States.
Cons
There is no burglary resistance testing described on the site.
Conclusion
A great safe will eventually become just another heirloom. It is something that will stand the test of time and be passed down throughout generations, collecting meaning and memories. It is the very thing you used to protect what you cared about during your life. What a fitting gift to give your descendants. Though the price is mentioned in the overviews of the companies I cannot count this factor as a pro or a con (exception: when the price does not seem to reflect the protection). Price should not be a determining factor of the safes ability. It is up to you to determine what you value in a safe. With these companies, you are going to get what you pay for. Find something that fits your needs and protects your valuables. Make sure that it will stand the test of time and serve its purpose for generations to come. If you care about safety, don't buy a safe. Invest in a safe. Spend the extra money and make sure that you have a quality product that will actually secure your property.