Travel security might be more important now than it has ever been in the past. In this era where terrorism has grown rampant, the need for personal protection is more apparent than ever before.
Even the most gorgeous countries to visit might rank highly in a dangerous category, as such, travelers have to adopt a defensive mindset. A defensive mindset and portable security devices will help travelers get the most out of any trip without having to sacrifice their security in any given way.
What To Look For In Portable Security Devices
Portable and Compact – The first point is the most obvious and the most important. Any portable security device should be compact enough to be taken just about anywhere. It would not help to have a portable security device that impedes your reaction time in emergency situations. Ideally, having something small and accessible is always the best way to go.

Inconspicuous – Any portable security device that you travel with should be inconspicuous and easily concealable. If you are in foreign territory, it always helps to avoid drawing attention to yourself and whatever security devices you may be utilizing. If your security devices are concealed, it will make the items you are protecting less of a target.

Storage Capabilities – The best security devices should cater to storage. Think of some of these devices as a portable safe or lockbox that you can take with you on your trip. Even though most travelers do not carry much, the things they carry are important. Ideally, you should have a way to store these items that keeps them secure, but easily accessible. Many travelers often forget to secure and store important documents, and this is where a portable security device comes in handy.

Strength and Durability – A portable security device should be strong in both the way it is constructed and the way it is meant to keep you secure. In most cases, security devices and mechanisms have a lot of force exerted on them. They have to be able to withstand this force, similar to the way deadbolts can withstand force exerted against them in an attack. Burglars and criminals actively target travelers but choosing a strong and durable portable security device will minimize the effect of their attacks.
With these four tenets in mind, let's take a look at the best portable security devices to take on any trip:
1. Travelon Anti-Theft Classic Backpack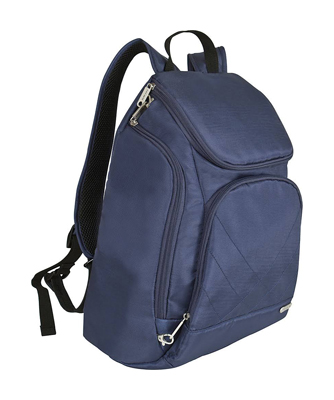 Traveling backpacks are the best portable security solution for storage and ease of access. These backpacks allow travelers to store all their essentials without having to compromise on anything. Also, they work well for a variety of locations, which means that travelers can always rely on their travel backpack no matter where they go. Most travel backpacks would not be considered security devices, but the Travelon backpack is a cut above the rest.
The Travelon backpack is constructed of slash-proof panels paired with a slash resistant body. Each of these slash-proof panels is reinforced with a flexible stainless steel mesh that makes the travel backpack extremely attack resistant. A travel backpack like this gives you the ability to adequately store your belongings on the go without having to worry about burglars, criminals, and pickpockets that might attempt to compromise your security by cutting into your bag.
In addition to the slash proof construction of the backpack, the anti-theft backpack also utilizes locking compartments that help prevent pickpocketing and other quick access attacks. To top things off, the Travelon backpack also secures travelers against RFID swiping attacks that place their vulnerable information at risk. The bag has an RFID blocking pocket that helps prevent easy access swiping attacks.
Buy Travelon Anti-Theft Backpack on Amazon
2. PacSafe Cashsafe Anti-Theft Travel Belt Wallet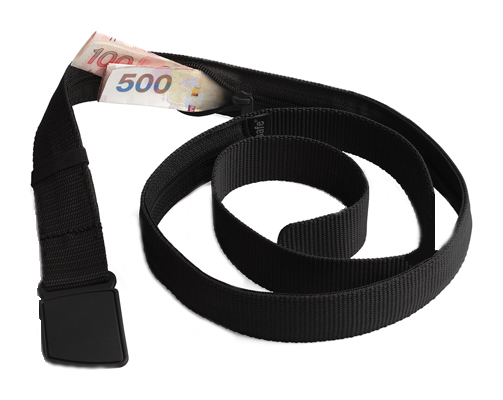 The PacSafe travel wallet is lightweight, inconspicuous and a great tool for storing your essentials while on the go. Most people overlook the defensive aspect of travel security and would prefer to focus on security devices like tasers. However, a great defensive base is one of the best ways to stay secure while you travel.
This anti-theft travel belt wallet helps keep your essentials secure and out of sight. Travelers often become victims to pickpockets and thieves who swipe wallets and steal valuable information. However, if they are not able to reach these items, then there will be nothing to steal.
The Pacsafe belt wallet weighs approximately 0.07 kilograms and can be worn as a belt or across the midriff or chest. This wallet is made of tensile and malleable polypropylene webbing. Unlike tasers, the PacSafe wallet is travel-friendly and will not be flagged by airport security as a dangerous travel item. Essentially, you will be able to get it through all airports unscathed.
This wallet features a stretch fabric storage compartment that can discretely store cash, smartphones, credit cards, passports etc. These are some of the common items that every traveler carries with them, regardless of where they are going. Even if you travel to a remote island location, you will need your passport and cash, and you will need somewhere to store each of these items.
Buy PacSafe Cashsafe Travel Belt on Amazon
3. Vigilant Hands Free Personal Alarm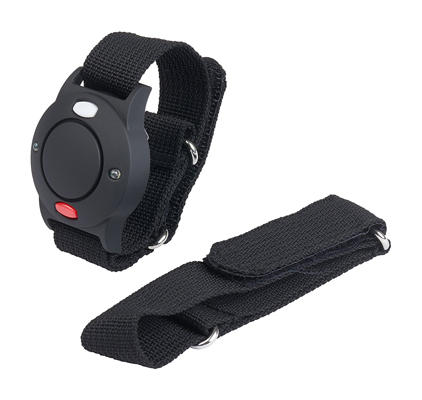 Personal alarms are some of the best portable security devices that travelers can take advantage of, for multiple reasons. In most cases, travelers are in places that are entirely new to them, which places them at a disadvantage. On the other hand, it gives any burglar or an attacker, the advantage. Personal alarms help level the playing field in these scenarios because they are a good way to alert the people around you to any impending danger, and to the fact that you need help.
The vigilant hands-free personal alarm is, in my opinion, the best choice for travelers. With an alarm that notches 120db of sound, it is bound to draw attention and alert people within your surrounding area. Also, most criminals are wary of alarms and will hesitate to attack you if you sound your personal alarm.
Not only does this alarm come in handy in security situations like robberies or assaults, but it also helps if you get hurt while you're traveling. For instance, if you slip and fall while hiking somewhere in a remote location, the personal alarm can be used as an emergency beacon to alert people who might be close by.
This alarm closely resembles a wristwatch, which makes it easier to conceal, and makes it easier to use. Many other personal alarms are hard to reach in emergency situations, but the Vigilant hands-free alarm does not have this flaw.
Buy Vigilant Personal Alarm on Amazon
4. Addalock
Many travelers depend on hotels, hostels, Airbnb and other accommodation services when they plan their trips. Without a place to rest after a long day of exploring, even the most fun trip can quickly sour. However, security is something that often has to be wrestled with when you make accommodations on any trip. Regardless of where you stay, you are likely to be more vulnerable than you would be in your own home.
This is simply because there are much more people who have access to your room. Ideally, you would have absolute key control of your own home, but this does not extend to hotels and other accommodation services. Some travelers choose to depend solely on the door locks that they are given, but this is not always the smartest option.
This is where the Addalock comes into play. This portable door lock can be taken on just about any trip, and it helps fortify the door locks that are already installed. The Addalock portable lock is inserted into the strike of the door frame, and this serves to reinforce the lock already in place.
With the Addalock inserted, your room cannot be opened by hotel staff or hosts. However, one of the main disadvantages of this lock is that it can only be used if you are inside your room. Meaning, that people can still gain access if you are away exploring like most travelers do. In light of this, try your best not to store any valuable items in your room.
5. ZeroHour APEX: Tactical Pen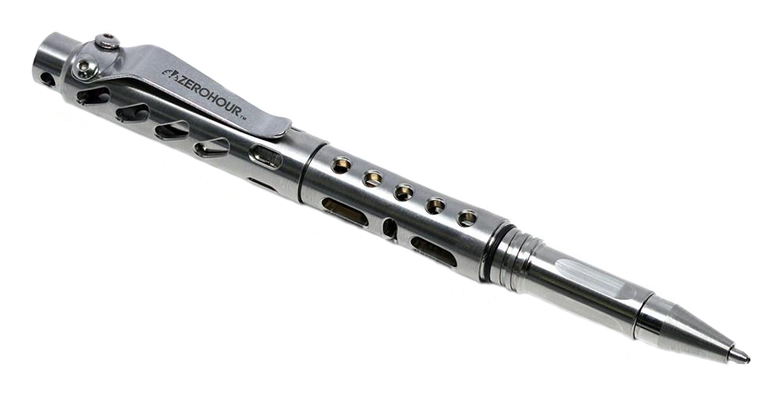 As far as portable security devices go, the ZeroHour Apex tactical pen is a great self-defense tool that can be carried with you just about anywhere. Aside from storage capabilities, the Apex tactical pen meets all the criteria for a portable security device. A tactical pen is a self-defense tool that can be easily concealed and carried with you to a variety of locations.
This tactical pen comes in handy as weapons that can be used against assailants and attackers and can even be used to break through restrictive barriers. It might seem somewhat paranoid to carry around a tactical pen with you on your trip, but you never know what dangers might arise.
Most tactical pens are bulky and gaudy, but the ZeroHour Apex is a sleek titanium product. It features a tungsten glass breaker and an emergency flashlight. Each of these features is geared towards enforcing safety and security on the go. There is always the possibility that you might be attacked while you are traveling, even if you do nothing to be targeted. If this should ever happen, having a tool like the Apex tactical pen just might get you out of a tight spot.
Buy ZeroHour APEX: Tactical Pen on Amazon
Final Thoughts
Portable security devices help travelers feel a lot safer when they are on the move. I highly recommend that avid travelers make use of some of the products listed above to enhance their travel security.
These devices should not make you disregard basic travel security measures. They are great tools to have, but they work best when they are used in conjunction with stringent safety practices. Remember to stay alert while you travel, but most importantly remember to have fun, and to stay safe.