If you are looking for the best padlocks of all time, this is not that post. There is a fair bit of overlap, but when it comes to storage locks, there are different considerations for practicality and purpose. Price is a huge factor, accessibility is extremely important, and all of that needs to be balanced against the security these storage locks offer.
10. American Lock A700D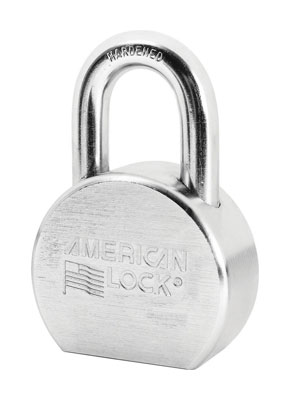 If you are going for the absolute minimum of security on your storage unit, you can't go wrong with the American series of padlocks. They are the first step up from the other locks manufactured by their parent company, Master Lock. The 700 series offers a thicker lock body and shackle than the other standard American Lock padlocks. But each lock is now made with 5 pin cores instead of the once standard 6 pin core. They are still difficult to pick, as they use security pins.
Along with one less pin in the lock core, there is also the widely publicized bypass for these locks. They cannot be shimmed, but specific bypass tools are available. Make sure that your core has the wafer installed that separates the lock core from the cam. This is intended to prevent the bypass. If you get an older 6 pin core, there is a chance that the wafer might not be installed, and I have even heard complaints from Amazon reviews that the newer models have not included the bypass protection wafer. But even with the bypass protection, there is a toolkit that punctures the wafer allowing for the bypass tool to complete its original function.
With all of that said, you may wonder why it is still on the list of best storage locks for your storage unit. The simple answer is that it is better than the other storage locks in its price and protection range. And depending on what you are storing, you might not make sense to invest in a very pricey lock. For example, if you are just storing clothing or other items that are not of great value or sentimental importance, you are looking to avoid having your storage unit targeted. You want something better than average without a high price.
A thick shackle and lock body do the job of sending most criminals on their way. It is going to be harder to pick than most other locks. And it generally looks as though you have more intention to protect than other storage units, while still not raising too much attention to the probable value of what you are storing. It is a standard lock with standard protection. Good for when you are not storing particularly valuable items.
Buy American Lock A700D Padlock on Amazon
9. Stanley Hardened Steel Padlock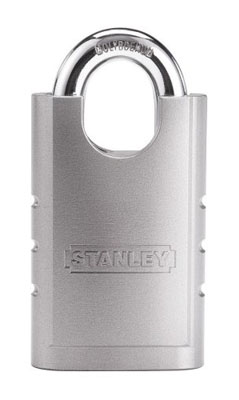 The Stanley Padlock is strong and versatile. Fresh out of the package you have a lot of resistance toward destructive entry such as cutting, prying, and drilling. The core has a few security pins in it, but it is nothing too special. However, with the removable core, you can upgrade the security of the lock to pretty much anything. You can go as far as to upgrade the core to something as high end as the EVVA MCS.
The price is extremely fair for the solid hardened metal construction. If you are not worried about getting the most out of the lock, you can use it straight out of the package as a storage lock. It is a great choice for a storage unit that needs minimal security, but if anyone takes a pair of bolt cutters to this storage lock, they are likely to need a new pair of bolt cutters.
If ever you decide that you want a better storage lock, you can keep the exterior of the lock and purchase a new core. And no matter when you decide to upgrade your storage lock, it is going to surprise anyone trying to get in. Even if your lock is being targeted, the criminal will be under the wrong impression of what type of core this storage lock really has.
Buy Stanley Hardened Steel Padlock on Amazon
8. Best Access Systems 21B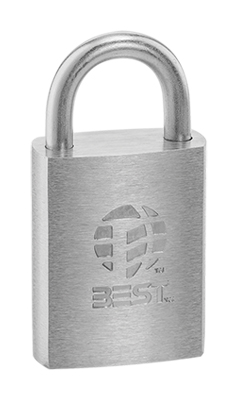 Best makes some very good padlocks. Just like the Stanley, the cores are removable, but with this storage lock, you can remove the core with a change key. Utilizing a total of 2 shear lines, replacing a broken, compromised, or keyed differently core is as simple as turning a key. You can also opt to purchase these locks with a shroud, which will make their already hard shackles more difficult to cut.
Best padlocks are the go to lock for commercial buildings or large facilities such as colleges and plants. This is because the company works to provide a variety of shackle lengths, can key the locks alike upon purchase, and builds a very weather resistant product. For this reason, Best is a great choice if you are renting several storage units and would like to reduce some of the hassles of multiple keys. And if the storage units are inside, outside, or require a variety of shackle lengths, you can have one lock manufacturer provide a lock for each concern.
Let's talk pick and covert entry resistance. With this lock, you are getting a seven pin core. That is standard. You can upgrade it, but in terms of standard defense straight from the seller, Best is the best storage lock for pick resistance so far. On top of how many pins come standard, these are also security pins. This is going to make bumping and picking very difficult. It is a good lock for a medium level of protection (standard), with the ability to become a lot better based on the other options you chose.
Buy Best Access Systems 21B Padlock on Amazon
7. Mul-T-lock MT5+ TR 100 "Hockey Puck"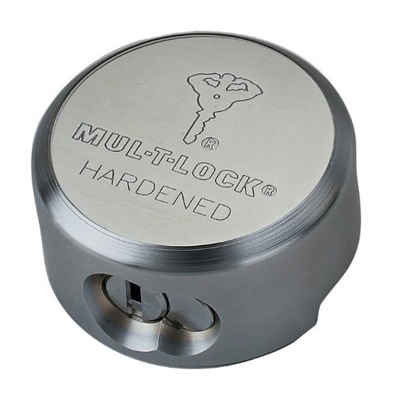 This storage lock is not the best choice for every type of storage unit, due to its size and shape. However, it does serve a very important function. If your storage unit has a very weak hasp that can be cut much easier than attempting to cut any of these extremely hard locks, the "Hockey Puck" will obscure the hasp and also conceal its own shackle.
The shackle itself is a shutter style and sits in a recess made in the solid construction of the lock. It is a great lock to use on storage units because most people won't even know how it is locking the door. They will, however, see the brand of the lock, so there is no real discretion to keep them from finding out more about the lock. But it is sure to confuse most lazy criminals.
The lock body is very solid and made of heavy metal. The lock core is the standard MT5 with the active element on the key denoted with the '+'. It is a very complex lock. Very hard to pick. There is no real protection on the keyway itself, so there is the vulnerability to drilling attacks committed against the lock core. All in all, it is an interesting storage lock, and a good choice if your unit can accommodate it. Not the most versatile padlock, but it is certainly formidable when it comes to security.
Buy Mul-T-lock "Hockey Puck" Padlock on Amazon
6. Abus Granit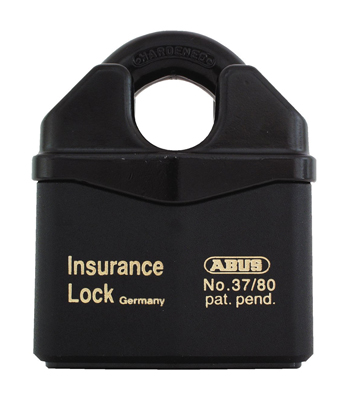 The Abus Granit is a disk detainer lock and it is extremely secure. The core is very difficult to pick, and it does not have weaknesses of other more cheaply made disk detainer locks. No one is going to bypass the lock core and get the shackle to release without having a key, or years worth of lock picking experience and the proper lock picking tools.
The shackle is also a full release, which means that there is no swiveling release. This is a plus and a minus when it comes to being an effective storage lock. On the upside, with a full release shackle, a criminal would need to make two cuts in order to remove the lock. This is opposed to the one cut that would free up a single side release shackle. On the negative side, it means that you cannot hang the lock from the hasp when it is unlocked.
It might not seem like that big of a deal to need to either relock the Abus on a door that is open, or just simply put it somewhere, but these considerations may not fit everyone's needs. It can get a be tiring to deal with a lock that requires extra steps, even though it does not seem like a big deal in the moment, there are some who are troubled by it. But when this lock is locked on your storage unit, you can be sure that it offers a great deal of protection.
Buy Abus Granit Padlock on Amazon
5. Abloy PL 342T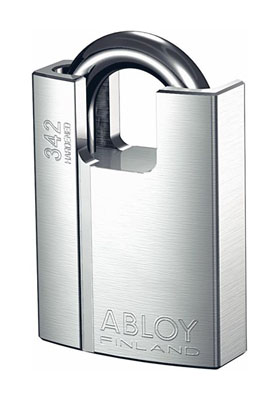 The Abloy 342 makes for a great storage lock. The shroud is a continuous length of metal from the body of the padlock. The shackle is nice and thick, but it would still be able to fit two thick links of chain between it. If your storage unit is chained closed this is a very good lock, but you can also use this lock inside your storage unit. Motorcycles or large machinery can be chained up and locked with the storage unit itself for additional security.
The core is extremely secure against most forms of covert entry. There are not many people who are going to pick this lock open. Bump keys do not work, just because the disks inside need to be rotated and not elevated. The shackle is going to mess up most bolt cutters, but it can be cut by some of the larger models using the most expensive blades. It is certainly formidable, but it is not infallible.
For the schematics of this lock, we are looking at a 10mm shackle with a 25mm lock body. There is a good weight to this lock and even though you might lose some of the polish off of the chrome finish, this lock will hold up to quite a bit of weathering.
Buy Abloy PL 342T Padlock on Amazon
4. Medeco M3 Shrouded Padlock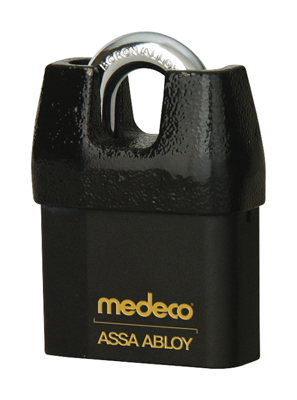 Medeco is a lock company people trust. It is also a brand that criminals are very afraid of. It has a reputation that precedes it. When criminals see "Medeco" on a lock, the most common reaction is to move on to something easier. There is an overwhelming general consensus that Medeco makes the world's best locks, though that is probably the result of marketing more than manufacturing. Don't get me wrong, it is a great lock, but the strength of the name only gets it so far on the list.
Focusing on the good, we start with a lock core that is incredibly difficult to pick. This lock may not achieve the highest level of security possible, but for a storage unit, it is certainly are not bad. As a storage lock, you need the device to stand up against violent entry, and this lock does that with its boron alloy, which is one of the strongest combinations of metals used in locks today.
The lock is very weather resistant so it can serve the functions of an outdoor storage lock just as well as it would indoors. There are also steel inserts within the lock core so that drilling attacks will be deflected. With the proper tools and training, this storage lock can be overcome, but it will protect against even the above average level of criminal entry.
Buy Medeco M3 Shrouded Padlock on Amazon
3. EVVA MCS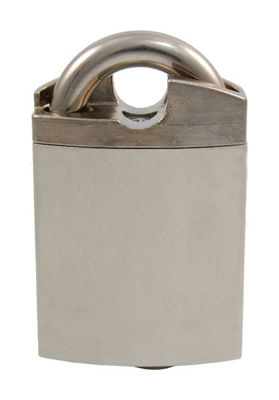 The EVVA MCS is one of the most secure locks in existence in terms of pick resistance. It uses a magnetic key system along with key pins that are manipulated by grooves on the physical key. What we are looking at for this lock is a mechanical and security marvel. It is an outstanding lock to own, let alone use, let alone use as a storage lock.
A steel alloy used throughout the construction of the lock. That means that you have high-quality metal both on the shackle and on the lock body. So when the person trying to open your storage unit is baffled by the complexity of the internal mechanisms of this storage lock, they will have their work cut out for them to break the lock open.
If you are also looking for something discreet, this is an amazing lock. There is no branding on the lock body, and it is not recognizable to non-industry professionals as a high-security product. It flies under the radar. Almost no one is going to target it thinking that it is easy to open, and very few people are going to know that you have invested in a high-security storage lock. This is very important to a lock that is kept publically displayed.
Buy EVVA MCS Padlock on Amazon
2. Abloy Protec2 PL 362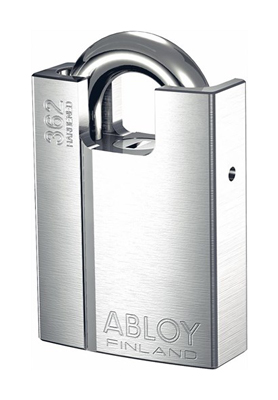 If you looked at the last Abloy on this list and thought, "That is almost what I want. If only it were even bigger, stronger, and more expensive," this is the lock for you. What the Abloy 362 gives you as a storage lock is a thicker shackle and lock body. We are talking about a 5mm addition of solid steel.
This might not be the right fit for every storage unit, due to the physical size, but if it does workout, it is an incredible amount of security. When it comes to height, this lock is 95.7mm tall. That is almost 4 inches tall, over an inch wide, with a half-inch shackle. And this is all hardened steel.
This lock is a statement when you put it on your storage unit. With its chrome finish and size, it is a hard storage lock to miss. But even as hard as it is to miss, it is much harder to break open. Similar to the smaller Abloy, very few people will pick this lock open, but even fewer will be able to cut it open.
Buy Abloy Protec2 PL 362 Padlock on Amazon
1. Ingersoll 10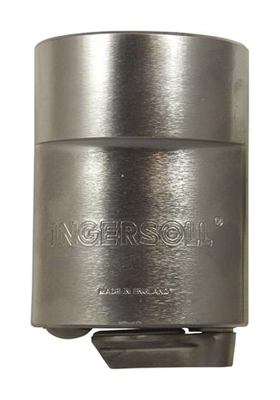 The best storage lock on this list brings everything together from the successes we have seen in all the other storage padlocks:
A core that almost no one is going to pick open
A thick lock body
A thick Shackle
A shrouded shackle
Nondescript and non-ostentatious
This is a heavy lock. It literally looks like a hunk of metal. If you can fit this on your storage unit, you are closer to making yourself a fortress. There is very little to say about this lock, other than it does all of the things you want from your storage lock. You are looking at something very expensive, but with that price tag, you are getting undeniable quality. It is actually a little cheaper than the Abloy 362, which has it win in terms of pricing as well. If you don't want to mess around with the security of your storage unit, do yourself a favor and use this as your storage lock.
Buy Ingersoll 10 Lever Padlock on Amazon
Other Considerations
Now that you know some of the best storage locks available, it is time to consider some hard truths. What you find in this section may prevent you from getting the most secure lock or suggest spending more money, but it will help you choose the right storage lock for your storage unit.
Cost – There is a wide range of locks on this list, with a variety of prices represented, but when it comes to cost you should not be thinking about the storage lock itself. Storage locks are just investments to protect the things that really matter. When it comes to cheaper locks, they are meant to secure things that you don't care too much about losing. A good rule is to spend 10% of the cost of what you are looking to protect on the lock you are using to protect it. Sometimes you need to store inexpensive stuff like decoration and clothing. Things that you don't want to be stolen. So it does not always make financial sense to protect your storage unit too vociferously.
Hasp Size – No matter what you can afford, you also need a lock that is going to physically fit your storage unit. The hasp of your storage unit is what the shackle of the padlock secures onto. The hole in that hasp must be big enough for the shackle of your padlock to fit through. It must also be positioned in a way that allows for the shape of the padlock to fit properly. And the dimensions of the hasp cannot be too large to the point where the padlock's shackle cannot fully close and secure.
Storage Unit Location – Location introduces a lot of factors. First off, is the unit itself inside or outside? When a lock is kept outdoors, you need to worry about issues like weathering and water drainage. A lock is not worth much if it rusts shut or breaks in some other way. Next up is the crime rate and popular crime types of the given area. Your budget for a padlock might need to increase just because of the high burglary risk for your storage location. Think about what is putting your storage unit in danger, and determine if your storage unit can handle that burden.
Conclusion
With this list of the best storage locks and the other things to consider when picking a lock for your storage unit, you can select the storage lock that fits your needs. Consider what you are protecting. How much it would cost to replace. Then take into account the practicality of being able to use the storage lock on your storage unit. Finally, determine the level of risk that your storage unit is facing. Select one of these amazing storage locks and give your storage unit the protection it really needs.