There are many aspects to business security, but no matter the locks, security systems, or guards you use, they all rely on proper security policy enforcement. One of the most important security policies is the clear or clean desk policy.
To find the right clean desk policy template or build your own, you have to consider:
FAQs
What is a clean desk policy?
A clean desk policy refers to the business security practices pertaining to protecting sensitive documents. The standard clean desk policy template instructs employees of the proper times to lock away any paperwork, USB devices, or any physical indications of restricted information.
Do I need to use a clean desk policy?
Most businesses record private information and will need to determine what their responsibility is to protect it. A clean desk policy makes your intentions and the role employees play in information security explicit. The more regularly this policy is enforced, the better it will be followed.
Are a clean desk policy and a clear desk policy different things?
A clear desk policy and a clear desk policy are the same. However, a clear screen policy is a variation of a clear desk policy. For businesses that are mostly or entirely digital in their record-keeping, you have to have a policy for not leaving certain documents open on a computer.
How should employees securely clean their desks?
The first thing to do is identify what needs to be secured. The size and volume of what needs to be secured determines what type of containers can be used. From there, determine how many people need access, so you can know if a key or code lock is more effective.
Where can I securely store company documents?
The choice of where to store sensitive documentation is really a choice between a safe or lockbox. To decide where to store documents as a part of your clean desk policy, you need to determine how much security you need. A lockbox, desk, or cabinet offers less protection than a safe.
Risk Assessment
Whether you are choosing an existing clean desk policy template or constructing your own policy from scratch, your choice needs to be informed by the specific threats facing the business. Then weigh your vulnerability to said threats to determine your level of risk.
Just as every business owner has to get into the mind of the customer you are looking to attract, a good clean desk policy requires considering the problematic person you are trying to repel. In that way, the clean desk ideas fit very closely with ideas of general loss prevention.
A clean desk policy can prevent employee theft in terms of protecting intellectual property or client lists. Desks can be cleaned on special occasions rather than daily, anticipating scheduled visitors, but for a policy to be effective, it must be regularly enforced, or its effectiveness will wane.
Key Takeaways:
Determine the most pressing threats your business is facing.
Pinpoint the situations that make you vulnerable to the threats.
Reduce risk by lessening your vulnerability to top threats.
Storage Options
Putting something out of sight may be all you need to secure the item. But putting something away as part of a clean desk policy should afford you the option to lock it away. Not all locks provide the same level of security, but the illusion of security is still more than no illusion.
Storage options include:
1. Mailboxes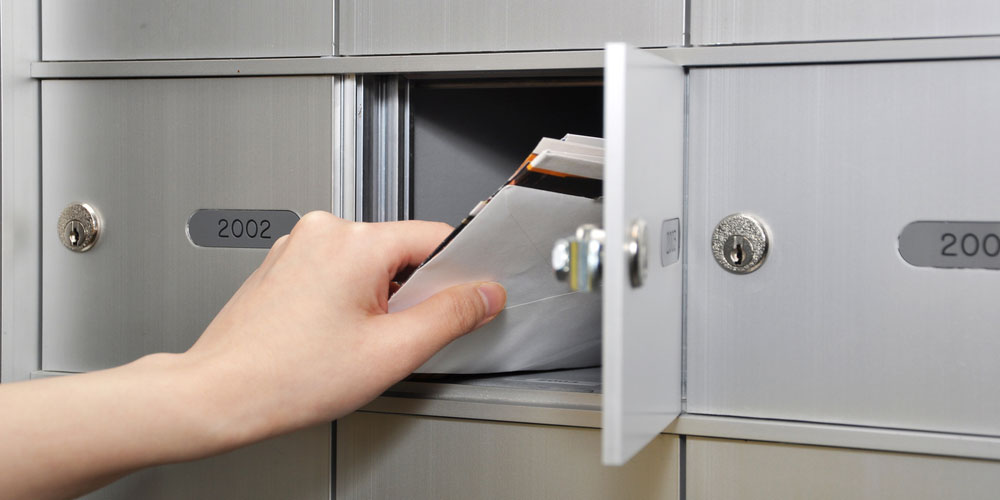 Though you should not put anything back in the mailbox at the end of the day, you can decide to leave items in a locked mailbox depending on specific deliveries or when certain personnel are present. Keep a clean desk by not adding parcels that cannot be received.
Be sure that your mailbox locks effectively. Request a commercial mailbox lock change if the security is unreliable or a lost mailbox key has left these containers unusable. Also, be sure that larger packages and items that will not fit in a mailbox are still stored securely until pick-up.
2. File Cabinets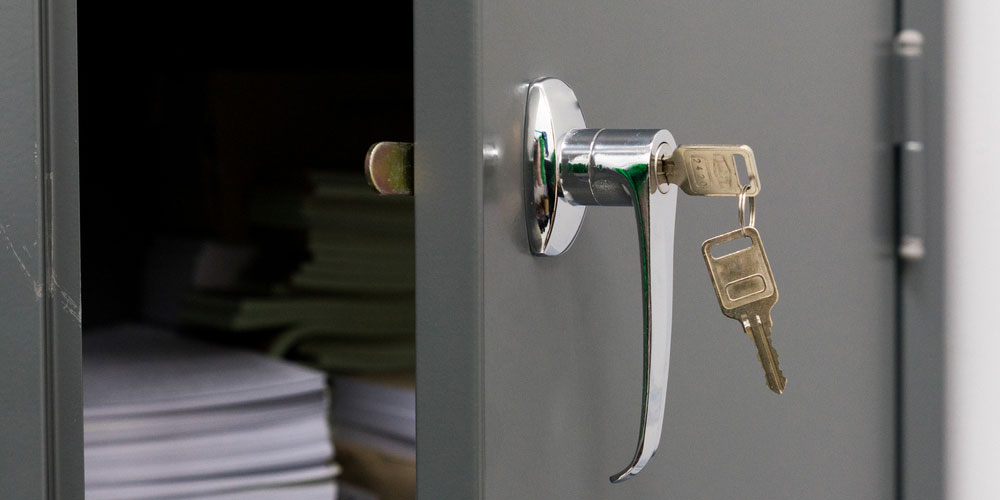 The classic clean desk policy definition focuses on tangible records, notes, contracts, etc. When it comes to paper documents, most of the time, they will have to be categorized and stored into a file cabinet once they are completed. It is a good idea to use a file cabinet with a locking feature.
Your standard file cabinet lock will deter the average passively interested party from gaining access to documents. However, file cabinets are not secure against targeted attacks. Though this may fulfill your clean desk obligations, filing means things are in a predictable location.
3. Desk Drawers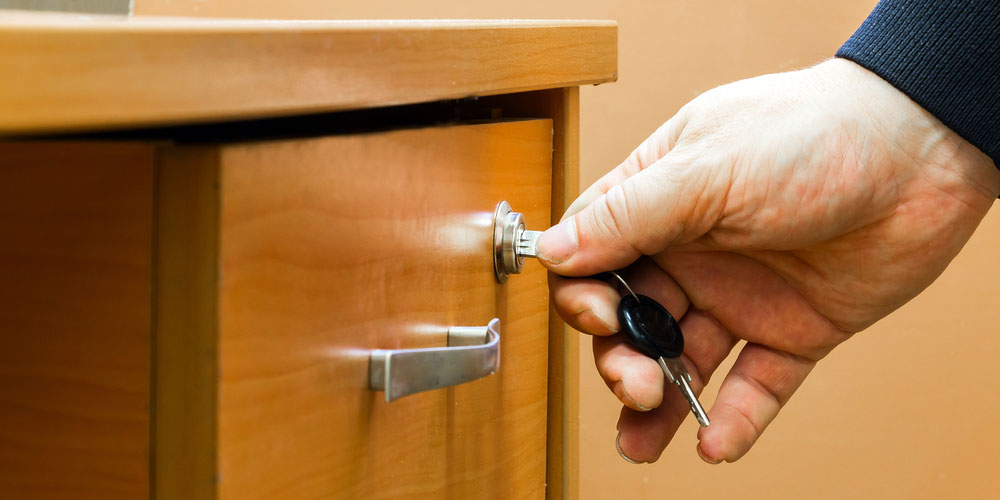 If any documents are still in progress, they cannot be filed in an unfinished state. You will need an intermediate storage location. This is why many businesses utilize desk drawers. With a lockable desk drawer, employees have a clean desk without having to centrally store tomorrow's work.
Make sure workers communicate the need for desk lock replacement, as the sole use of each desk lock makes it difficult for management to know if there is an ineffectual lock. You must also check that the locks are being used, and lockable desks are not being left open.
4. Locked Rooms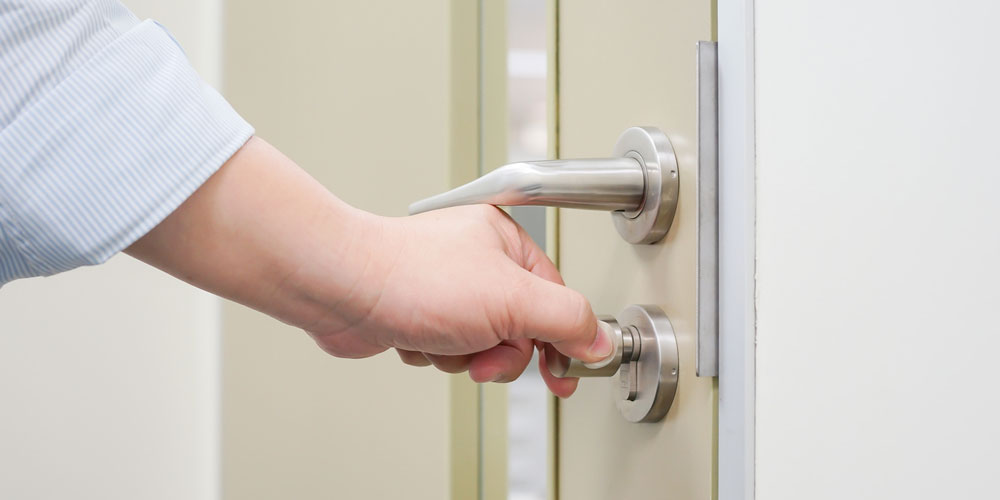 Do you need to clean your desk if your office itself can lock? Usually, a locked room is enough security for whatever you are trying to protect. But offices that need to be cleaned after hours either need to be left open or have spare keys given to cleaning staff. In either case, you should have a clean desk.
It is also important to know how secure the room is. Is the building interior using solid core doors or hollow core doors? If the office has glass walls, is the window glass reinforced? Does the office use keyed alike door locks so more people have access to the room?
5. Safes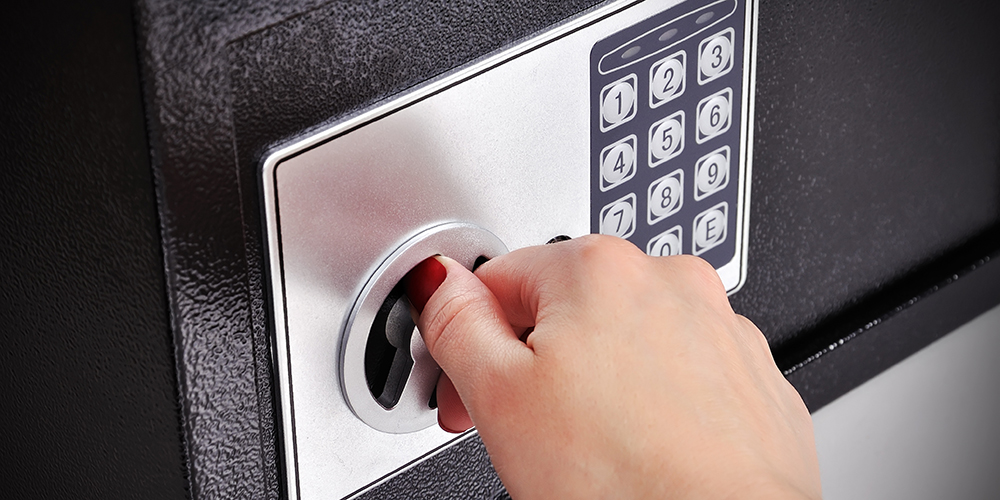 Safes come in all different shapes, sizes, and security levels. But pretty much any safe provides more substantial security than a file cabinet or desk. But this additional security can be a problem if an employee forgot the safe combination or otherwise experiences a commercial safe lockout.
But the risk of downtime is worth it if you need a higher level of security. For very valuable and vulnerable items, you might want to invest in a product designed by one of the best safe companies. Then focus on physical access control so only vetted employees can open the safe.
Sensitive Items
Depending on the industry, there are going to be different types of sensitive items that the business is trying to protect. An effective clean desk policy has to accommodate for the size, rate of use, and value of each item.
Your concerns and items are likely to vary based on the business setting, somewhat independent of your specific industry. So even if your ultimate goal is warehouse security, you may have settings that resemble or match the risks of retail or corporate spaces.
The sensitive items will depend on if the work place is:
1. Corporate Settings
The traditional clean desk policy definition is certainly devised with the standard corporate office structure in mind. Documents are printed or USBs are filled and circulated, but they are only meant for certain individuals. While unattended on a desk, the chain of custody is threatened.
Often the exposure of sensitive items in a corporate setting presents risks of espionage. Whether it is negotiating acquisitions, partnerships, mergers, etc., leaks can tank deals. Knowledge of R&D or anything proprietary and unpatented can give competitors an edge.
Chances are these spaces have a business security budget that is more focused on digital protections such as firewalls to protect against malware or ransomware. There are also likely policies for handling checks, petty cash, and supplies. But you also need a clean desk policy.
2. Retail Settings
In terms of retail security, you may want certain workstations to put away sensor tag removers when they are not in use. Inventory sheets need a proper chain of custody once signed to prevent unscrupulous retroactive amendments. But these risks are related to inventory theft.
Larger retail chains can have some crossover with the sensitive items of corporate settings, but at this point, we are getting into the corporate aspect of the retail industry. For the purpose of this article, a retail setting is defined as dealing with products and the public.
The addition of constant interaction with customers means a misapplied clean desk policy template can leave sensitive items exposed to the general public. In these cases, you have to be concerned with more than just internal threats, as internal mistakes can lead to external theft.
3. At Home Settings
For remote workers, a clear desk policy will often be less important than a clear screen policy. However, the definition of physical security outlines the way network security interacts with something like a clear desk policy. This is all more important if you live with roommates.
Roommates, even when they are family members, can present the risk to sensitive items. There is the obvious threat that they will see something sensitive and mention it to someone else absentmindedly or even take something maliciously. But a clear desk goes beyond burglary prevention tactics.
A helpful roommate may move something that was not put away. Now you have lost track of a sensitive item due to someone's good intentions. They might also accidentally damage something if it is not removed from a common space that you were temporarily working in.
Summary
Clear your work area, and avoid loss. In terms of a clean desk policy definition, that is the simplest way to state it. The threats will vary depending on your industry and the company setting, but what never changes is the security you gain from even a basic clean desk policy template.
And when you clean your desk, be sure to put everything away in an appropriately secure space. For lock upgrades and installing security, reach out to a commercial locksmith. If you have any general questions or thoughts about this topic, leave a comment below.