The door you are using affects the rest of your security. Before changing locks, you have to know what type of door your locks are going to be installed on. This means understanding the difference between a hollow core door and a solid core door.
We will cover:
FAQs
What is the difference between solid core doors and hollow core doors?
The main difference between a solid and hollow core door is the amount of material used. A hollow core door uses a veneer fixed to a wooden frame. A solid core door fills in the frame with additional wood underneath the veneer, making it stronger, heavier, and more soundproof.
Is a solid core door more secure than a hollow core door?
A solid core door offers more security than a hollow core door, with sturdier construction and more weight. If a hollow core door were to be kicked in, the door itself is likely to break as it opens. A solid core door assists your door locks by standing up to more force.
How can you tell if you have a hollow core door or a solid core door?
The simplest test to see if you have a solid core door is to knock on it. If you hear an echo, this is a sign of a hollow core door. You can also feel the weight of your doors, comparing interior to exterior. The heavier the door, the more solid the construction.
Why are solid core doors more expensive than hollow core doors?
Solid core doors are more expensive because they are using more material and are heavier. More material means higher material costs. More weight means it is more expensive to ship and transport them. Hollow core doors are also comparatively flimsy and insecure, which makes them less desirable, and therefore cheaper.
Can I use a solid core door as an exterior door?
A solid core door can be used as an exterior door. Though it is not as preferable as a solid wood door or metal door, there are options for solid core exterior doors. Doors can even use metal inserts within the core or metal veneers for greater strength.
Should I use a solid wood door instead of a solid core door?
A solid wood door is heavier than a solid core door, with no change in the type of wood and no veneer. A solid core door is less likely to warp, reducing the chances of a stuck door latch or bolt missing the strike plate. Solid wood is stronger but more susceptible to weathering, which causes lock problems.
Solid Core Doors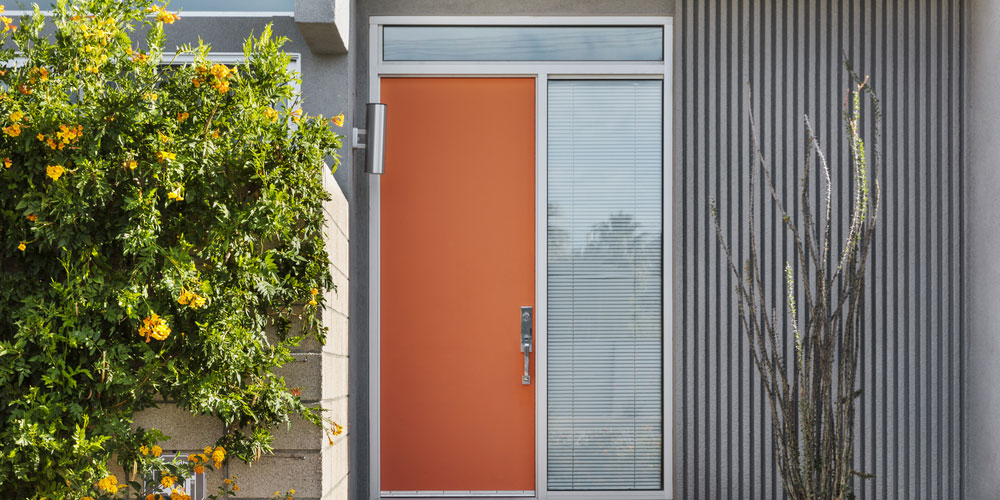 There are many varieties of solid core doors, but they all use the same basic structure. You will have the outer veneer, which is most often wood. Under the shell of wood, there will often be a less expensive wood core. In the case of low-end solid core doors, the core will be a cheap fiberboard.
Where To Use Solid Core Doors
Exterior doors
Interior doors
Attached garage
The lower tier products are relegated to being solid core interior doors, but you can purchase a solid core exterior door. With the veneer, a solid core exterior door is better protected from the elements and less likely to warp and expand than the traditional solid wood door.
When compared to a hollow core door, a solid core door is much more secure. Even if you are using a less expensive solid core door, it is significantly more substantial than a hollow core door. For that reason, it is important to use solid core doors on particular interior doors.
If you have ever been locked out of your garage, you may have realized how little security these structures have. So a house with an attached garage needs a stronger door leading from the house to the garage. Whether you are using commercial door locks or residential door locks, if the door has a lock, it should be a solid core door or something stronger.
Pros – Solid Core Doors
With a solid core door, you are getting a base level of protection. In the event that a normally installed solid core door is kicked open, it will not break (the strike plate will rip out a portion of the door frame). Security is improved by the solid core door uses a stronger material for the core.
Due to the material used in the door, there is greater fire resistance as compared to hollow core doors. If you are installing fire door locks, they should be installed on doors with some level of fire protection. The thickness and fullness also make a solid core door more sound resistant.
A variety of door lock problems occur from warping and expanding wood, which solid core doors experience less frequently. Solid core interior doors are already more insulated from the elements, but the veneer over the core provides enough protection, so a solid core exterior door is also weather resistant.
Key Takeaways:
Provides security
Soundproofing
Fire resistance
Weatherproofing
Cons – Solid Core Doors
Many solid core doors use pine wood for the core, even if they are using a more substantive wood for the veneer. If you have gone through the trouble of improving the security of your front door, the door may break before the lock is compromised.
In the security industry, it is often said that "the lower the cost, the lower the security." You can purchase a more secure solid core door, but be aware that you may also be paying for style rather than functionality. Higher prices may not translate into better structural quality.
You can also run into issues with repairing a solid core door. For example, a wood veneer can be stuffed or gouged. On a solid wood door, you can sand out this type of marking. Too extensive sanding will reveal the different wood beneath the veneer on a solid core door.
Key Takeaways:
Vary in quality
Not high-security
Difficult to repair
Hollow Core Doors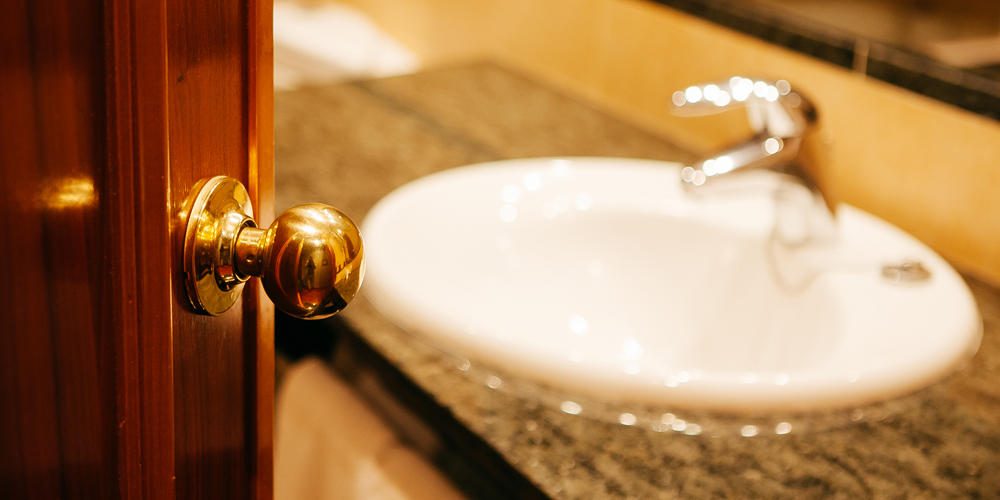 A hollow core door is like a solid core door without the material beneath the veneer. The veneer is often a molded composite shell secured to a wooden frame. If you were to cut deeper than about an inch from any side, you would see that the door is mostly hollow inside with a few bits of material to keep its structural shape.
Where To Use Hollow Core Doors
Any door without a lock can use a hollow core door. This type of door does not offer much in the way of security but also brings down the security of locks and other security precautions. If a hollow core door has a lock installed, it should be a privacy lock.
You are using the wrong lock for your hollow core door if it has a keyed cylinder. Products such as bathroom door locks work perfectly for hollow core doors because they are there to suggest the desire for privacy.
Think of a hollow core door like a curtain that you can knock on and a privacy lock as a reminder to knock. Other than that, a hollow core door can be used for a closet or space that you want to visually obscure. But a closed hollow core door is not going to significantly muffle outside sound.
Pros – Hollow Core Doors
Because a hollow core door has such simple construction and uses very few materials, these doors are exceedingly inexpensive, as compared to hollow core doors. Many home renovations will use hollow core interior doors because this price saving adds up.
The lightweight makes a hollow core door easier to transport. It is also easier to install, which saves time. And when you are putting in several doors, you are saving money on the cost of each and the time for the labor. Also, consider the cost of new lock installation, even if these are just privacy locks.
If you are just getting one new door, the choice between solid core interior doors or hollow core interior doors may be less straightforward. The perks of buying a hollow core door accumulate with larger purchases and bigger projects.
Key Takeaways:
Low-cost
Lightweight
Simple installation
Cons – Hollow Core Doors
Beyond damage sustained if the door were to be attacked, a hollow core door can be easily damaged by daily use. This damage is even more difficult to repair than it would be on a solid core door due to the lack of material in a hollow core door.
If you are replacing interior door knobs on hollow core doors, remember not to use keyed locks or anything more substantial than a privacy latch. The hollow core door itself is too insecure to do anything but undermine the security of the door locks being used.
Because of the flimsier quality of hollow core doors, they do not last as long. The shorter lifespan of a hollow core door can offset its initially cheaper price. When you pay for something more substantial like solid core interior doors, it may end up being less expensive in the long run.
Key Takeaways:
Easy to damage
No security
Shorter lifespan
Closing Considerations
Doors create boundaries. Whether it is for security, privacy, or to clarify personal space, you need a door. Hollow core doors are exclusively for non-security entrances in the interior of a building. Solid core doors provide better security and last longer.
You wouldn't use a hollow core door for your front door, so don't install a front door lock on one. If you are using a privacy lock on an interior solid core door, that is fine, but you are not maximizing the security you could be getting. For more door lock insights, call United Locksmith.