You are experiencing an emergency and need the best lock service. But when you tell your phone, "find a lockout service near me," no algorithm is going to tell you what to look for in the locksmith you are hiring. That is why it is important to know the most pressing criteria for finding the best lockout service near you. Even in an emergency, it is a good idea to take a step back and get prepared. You want to be interviewing your lockout service candidates, and know the difference between a red flag and the industry standard.
Consider the following lockout service factors:
1. Nearby Location
Time is of the essence when you need lockout service, so be sure that the locksmith company you are calling is near you. In the case of this emergency service, the locksmith will be coming to your location with their vehicle and tools. For that reason, it matters more where a locksmith is currently located than where their storefront is located.
Physical Address
Search engines can use your exact location to find the local listings of locksmith businesses, but the physical location of the business does not tell you how far away a locksmith is. Mobile locksmiths will travel miles to give customers the service they need, but this can put them miles away from you in the opposite direction. Always clarify with the person you are talking to (locksmith/dispatcher) as to how long it will take for the locksmith to arrive.
Mobile Workstation
Some local locksmiths will dabble in lockout services, but that does not make them a true mobile locksmith. A mobile locksmith drives their primary workstation, which means that when they arrive, the technician has every tool needed for your lockout. Once they arrive, they can begin working and get you back into your home, office, or car without delay.
Key Concerns:
Lockout service is provided from mobile workstations, not a physical location.
Ask how long it will take for the locksmith to reach your location.
Nearby mobile workstations, which are fully stocked and well-maintained are a higher priority than the physical location.
2. Time of Day
As long as you contact a 24-hour locksmith, you will always be able to get a locksmith for lockout services no matter the time of day. That being said, the exact time you are calling for service will affect your experience. You cannot control when you are going to be locked out of your car, house, or office, but you can know what to expect at different hours of the day. These considerations let you prepare for the special circumstances you may be put in when you are searching for a lockout service near you.
Early Morning Lockouts
Most customers looking for lockout services in the morning can expect traffic delays to slow the arrival of their locksmith. Morning rush hour can create delays, especially for customers in urban city centers. In the very early morning, you may fall into non-standard business hours and be subject to additional costs.
Midday Lockouts
Many locksmiths plan out appointments midday for customer convenience, so you may run into companies that have all of their techs scheduled out. This is not always the case, but still consider the lunch rush affecting traffic if you are locked out around 11:00 AM to 2:00 PM.
Late Night Lockouts
When you are locked out in the dead of night, and most locksmiths are shuttered until daybreak, there are going to be fewer choices. This will affect the cost of a 24-hour locksmith as supply shrinks and demand increases. That being said, you should never be taken advantage of during a time of crisis. Pricing has to shift to be able to deliver the best quality lockout service and keep the best technicians on call. But a quality locksmith does everything they can to keep pricing fair.
Key Concerns:
Time of day will affect traffic and a locksmith's travel time.
Services delivered during non-standard hours may incur fees.
Inquire about additional costs for early morning and late-night lockout service.
3. Service Type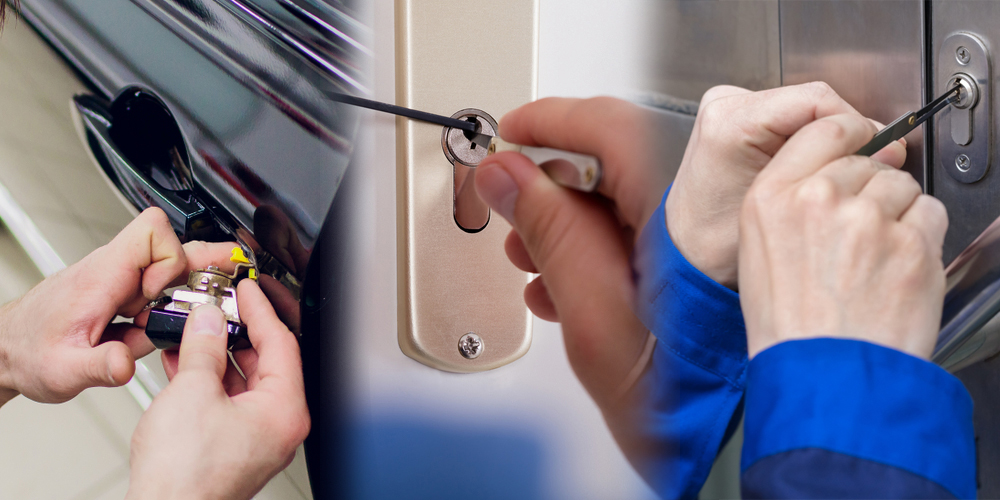 Many times, a locksmith will offer a variety of lockout services. The most common services customers need are for cars, homes, and commercial buildings. Less standard lockout services include safe lockouts, motorcycle lockouts, and other non-standard vehicle lockouts. If you need a less standard lockout service, make sure to clarify with the company whether they offer that service or not.
Car Lockout Service
When experiencing a car lockout, make sure you are checking for lockout services near your present location. This is to say, where your car is located currently. If you are entirely lost, use road signs and landmarks to get a rough estimation of your geographical position. Also, consider why you are locked out of your vehicle. If you have locked your keys in the car, once you get in, you can drive away. If your car key broke or was lost, you will need additional services.
Home Lockout Service
During a home lockout, you will be asked to provide proof that you are the primary resident of the home. This is not as much of a concern for car lockouts where drivers have a valid ID, registration, and insurance paperwork inside the vehicle. But when you need a locksmith to open your front door, they will need to see perhaps an ID and a piece of mail addressed to the address. Your locksmith will ask for this as a standard part of the service.
Commercial Lockout Service
One of the most important considerations when calling a locksmith for a building lockout is to have someone present who can verify their right to access the commercial space. Your locksmith should inform you of this over the phone so that they can get to work as soon as they arrive. To get the best experience with commercial lockout service, always have the business owner/property manager available before reaching out to a locksmith. Also, be aware that storefront door locks are likely to be higher security and may take longer to open, and require more experience.
Safe Lockout Service
A safe locksmith can open both commercial and home safes. The more important factor will be your safe brand. Each safe brand can require different tools and knowledge. Sentry Safes, Cannon Safes, and other cheap safes can be opened by any safe locksmith, but the highest-security safes can be opened by very few technicians. Be sure to specify the brand of safe, and make sure the locksmith has provided safe lockout services with your make and model. Note that it is likely a safe lockout service will cost more than other lockout services.
Key Concerns:
Even if a locksmith offers every type of lockout service, make sure your technician has experience with the service you need.
You will need to be able to prove you have the right to access the structure you are locked out of.
Safe lockouts are extremely different from other lockout types and will often cost more than opening a door on a home, office, or car.
Other than safe lockout service, lockout services for cars, homes, and offices should have a shared standard starting price.
4. Scope of Issue
You might be thinking to yourself, "I just need a lockout service near me." But the scope of your problem may be more extensive than a simple lockout. When looking for the best lockout service, you need a locksmith that can cover all the additional services you may need. They must also be able to diagnose issues that you did not know to ask about. Below are some of the most common issues that broaden the scope of a lockout service request.
Removing Broken Keys
Besides keys being left inside a locked structure, keys breaking off in the lock is the most common reason for requesting a lockout service. The locksmith will need to remove the broken key from a lock before addressing the lockout out. This is a separate service cost, and a quality locksmith will inform you of this before performing any work. Just make sure that they can copy a broken key so they don't leave you without a way to re-enter your property.
Making Keys
Any mobile locksmith worth their salt can make new keys, but their mobile workstation must have the machinery to perform this service onsite. In the case of car lockout services, leaving you without a functioning key doesn't fix your problem. A locksmith needs to be able to replace broken keys when they arrive. This goes beyond simple car key duplication. The potential reasons your car key doesn't work are extensive, and your locksmith needs to have a ready solution for each of them. This includes making a new car key without the original and car key programming.
Fixing Broken Locks
There are many solutions for a broken lock, but unlike the fixes for broken keys, many broken lock fixes require specialty parts. For example, with a car lock stuck in the lock position, there might be an issue with your door lock assembly. With so many makes and models using different parts, it may not be possible to have all the parts on hand. In cases where the lock has to be remedied immediately, it may need to be fully replaced.
Something Else Is Broken
Locks and keys are not the only reason you may require a lockout service. Damage to the car door frame after an accident can result in a car lockout. Foundation raising can cause a door to stick and jam. These are issues that often start as inconveniences and build in severity until you are fully locked out. A locksmith is not always able to give permanent solutions to these problems but should offer you other avenues to go about fixing these other issues.
Key Concerns:
If your keys are not inside the structure you locked out of, you may need additional services.
Broken keys and broken locks could be the reason for your lockout.
Fixing broken locks may require parts to be ordered.
5. Quality Staff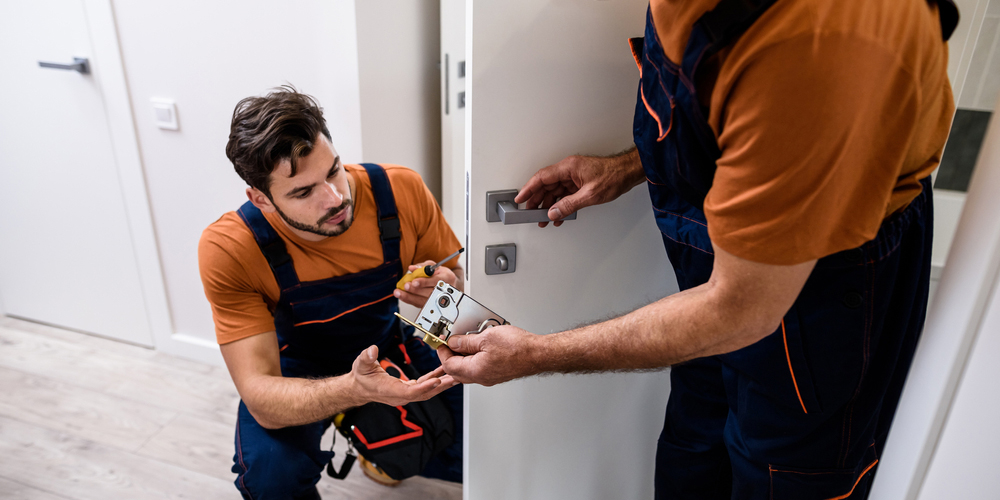 When you have never used a company before, the best way to gauge the quality of their staff is with existing reviews. This will give you a sense of some of the intangibles of lockout service, such as helpfulness, professionalism, etc. But you won't know what you are getting until you contact the company in question with your particular issue. As we have already gone over, many things affect your service. So when you are inquiring about your lockout service see if you can get a sense of the following:
Staff Size
The ability to deliver quality lockout services requires a staff that can respond to the volume of incoming calls for your area. That means someone on the other end of the line when you call and a technician who can get to your location quickly. Lockout services are emergency services and require a fast-moving company with the staff to tackle your issues at a moment's notice. So whether you live in a densely populated metropolis or a smaller widespread community, you need to contact the appropriately staffed locksmith.
Training
It is best to contact a locksmith that specializes in lockout services, then just calling any old locksmith near you. In the case of a well-staffed locksmith company, you will have technicians that specialize in different types of services, the most common of which are lock services. The more experience a technician has the faster the work can be done. And less experience doesn't just mean waiting longer, it also means a higher chance of damaging the door, lock, key, etc.
Tools
Most technicians will have the basic locksmith tools for lockout services, but your lockout may require additional work. (As discussed in the section about the scope of your issue.) The locksmith should have a key cutter that will cut car keys by code, as well as simply duplicating existing keys. And a truly high-quality locksmith will have lock replacements ready if it turns out your door won't open because something is broken.
Key Concerns:
The fewer available lockout service technicians, the longer the wait time.
An inexperienced lockout service technician increases the time to complete the job and increases the risk of damage to the property.
Contact a well-staffed locksmith company with experienced lockout service technicians.
Closing Thoughts
United Locksmith offers lockout services in your local area that fulfills all of these requirements. We have the skill, experience, tools, and reputation you are looking for in a locksmith. We are a nationwide service, so chances are we have a highly skilled locksmith technician in your area ready and waiting. If you want to take the research and guesswork out of choosing the best lockout service, call us today for the best lockout service near you!