If you are looking for car unlock services near you, look no further than United Locksmith. However, you may want to learn more about your other options and details about various services. We are confident that when you know more, you will choose United to help you with your car lockout.
Finding the best car unlock service near you comes down to:
FAQs
Who provides car unlock services?
You can call an auto locksmith any time of day, and they can unlock your car as well as make new keys or fix your broken car lock. If you pay for AAA, they may be able to come to your location and unlock your car. In an immediate life-threatening emergency, call 911.
How much does a locksmith's car unlock service cost?
The cost to unlock your car when you hire a locksmith starts at $35 plus the standard fee for mobile services ($15). If the car has additional security features that increase the complexity of the car unlocking service, the price will increase.
Does a car unlock service damage the vehicle?
A locksmith's car unlock service goes to great lengths not to damage the vehicle. There is rarely any need to break any part of the lock to open the car. In specific cases, a trunk lock may need to be drilled. Any destructive entry will be certified by the client before service begins.
Can I unlock my car myself?
When you attempt to unlock a car yourself, you increase the chance of damage and the time it will take to open your car. Unless you locked your keys in the car, simply getting the vehicle unlocked will not always get you back on the road.
Top Car Unlock Services
When you call for a car unlock service, there may be all types of extenuating circumstances for your particular lockout. But it is important to understand the general trends with the most commonly requested services.
1. Locked Keys In Car
The most straightforward car unlock service comes when you have locked your keys in the car. You also have the greatest number of options for keys locked in your car versus services that tend to be more complex. If keys are broken or locked in the trunk, you will not have as many choices.
When unlocking your car will give you access to your keys, there is no need for car key replacement. This means you can use any car unlock service available to you. You may also be able to do this work yourself, providing you have the correct tools and know the proper steps to take.
The most challenging aspect of opening a car with the keys locked inside will only be encountered if the car has been deadlocked. Most vehicles do not have a deadlock feature, where manually manipulating the interior locks does not affect the lock. But if your car has entered a deadlock mode, a locksmith may be required for automotive lock picking.
Key Takeaways:
This situation presents the least amount of service restrictions.
Opening your car will immediately restore the full functionality of the vehicle.
If your car has deadlocked, you may need a locksmith to pick open your car door lock.
2. Locked Keys In Trunk
In the majority of instances, keys locked in the trunk are going to be as simple to access as keys locked anywhere else in the car. However, it can get much more difficult if the trunk won't open due to components being broken or disconnected.
If you have engaged a deadlock feature, which prevents your trunk or door locks from being manually opened, this may require the trunk to be drilled so the keys can be accessed. This very extreme case may require drilling to open the trunk.
When you have locked your keys in the trunk and the car is deadlocked or the trunk is damaged, roadside assistance and emergency services are unlikely to know what to do. You will likely need a trained locksmith car unlock service experienced with this type of lockout.
Key Takeaways:
Trunk lock damage and deadlock features increase the difficulty of opening the car.
Deadlocked vehicles may require minor destructive entry to open the trunk.
A locksmith's car unlock service may be the only option for specialty trunk lockouts.
3. Lost Car Keys With No Spare
When your car unlock service is applied to a situation with lost keys and no spare, you are still going to need a new key before you can rest easy. The only car unlock service that is going to be able to both unlock your vehicle and make a new car key is a locksmith.
If you can find your lost keys or have a spare brought to you by someone else who drives your car, then you are golden. This will solve your lockout, and you can use the spare key to get a new key cut and programmed. But if you really lost the key and have no spare, you need a locksmith.
When your only car key is not working, this puts you in the same type of situation. It may be possible to copy a broken key, but it will be just as easy for a locksmith to make another by code. With a locksmith's car unlock service, you have access to almost any other key or lock-related service you may need.
Key Takeaways:
You will need new keys after you unlock your car.
A locksmith is the only car unlock service that can make new car keys without a spare.
Car keys that are broken or not working can be considered "lost."
Best Car Unlock Service Options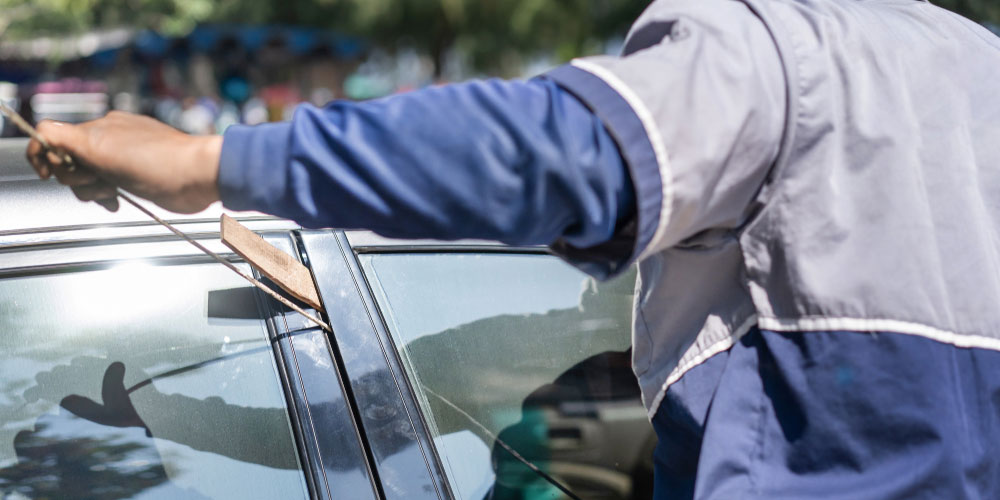 The best car unlock service options are provided by trained professionals who have the highest chance of being able to fully solve your automotive lockout. Rather than list out everyone who could potentially help you, we are going to focus on the options most likely to unlock your car door and service you more as needed.
1. Automotive Locksmith
A locksmith who specializes in unlocking cars and making car keys has the designation of an automotive locksmith. The level of training and experience means when you use a locksmith's car unlock services, they can do more than just open the vehicle.
In the section above, we discussed the main reasons drivers find themselves locked out of their car. A locksmith is the best option for handling the more complex forms of car lockouts. It is even possible for them to perform car door lock repair if this is the reason for your lockout.
If you contact a 24-hour locksmith, you can also get service during non-standard business hours. Please be aware that you may incur emergency locksmith prices by requiring services outside of normal business hours. But if you need full-service options on short notice, there is no better option than a locksmith's car unlock service.
Key Takeaways:
A car locksmith can provide additional services beyond unlocking your vehicle.
If the car lockout involves deadlock features, broken keys, etc., a locksmith is your best option for full service.
For late night or early morning service, contact a 24-hour locksmith.
2. Roadside Assistance
If you are already paying for a roadside assistance service, your best option is to use it. AAA will even go as far as paying for locksmith services (the amount covered varies depending on the membership plan). Even if your issue is more extensive than a lockout, the vehicle can be towed to a service location.
You will not be able to get an onsite ignition repair or ignition replacement, and getting new keys made on the spot is not possible. All services beyond the car unlock service will need to be provided by another technician, which the vehicle can be towed to.
There is no harm in getting the roadside assistant to help you as much as they can, beyond the time elapsed. You may not know further services are required until the car is unlocked. But if you are not a member of any organization that provides roadside assistance, this is not an option.
Key Takeaways:
If you have a roadside assistance membership, they may pay for a locksmith or a tow.
Roadside assistance is unlikely to provide service beyond unlocking your vehicle.
Non-members cannot make use of this car unlock service.
Special Circumstances
Other car unlock service options may be available depending on the specifics of your car lockout. Unless you meet the requirements outlined in each section, it will not be a viable method of opening your locked car door.
1. DIY
In most car lockout scenarios, you are not going to have the resources or time to unlock the vehicle yourself. However, you may be close to home, in the parking lot of a hardware store, or have access to tools you can use to unlock your car.
The most basic tool for unlocking car doors is your shoelace. As long as your car door uses post locks (vertical lengths of plastic or metal that pull up to unlock), you can tie a slip knot and work the lace between the frame and the door. Catch the post in the loop, tighten and pull up.
If your circumstances do not include having post locks, you can use the wedge to create a gap between the door and the frame. With a long-reaching tool, enter the gap and press the interior unlock buttons. Do not keep the door wedged too long or make the opening too wide, or the car can be damaged.
Key Takeaways:
You can unlock your car if you have access to tools and the time for trial and error.
With a shoelace, you can open interior post locks.
If the car door can be wedged open, a long tool can be inserted to manipulate unlock buttons.
2. 911
If a child is trapped inside the car or you find yourself in an equally distressing emergency where people are placed in immediate mortal danger, you can call 911. You do not have time to look for the best lockout service when this much is at risk.
Police intervention will almost always result in damage to the car because of the urgency. What this type of car unlock service is offering is the immediacy that only blaring sirens can provide. Just be sure not to hold up emergency services if your circumstances are not life-threatening.
In some small towns, law enforcement will help you out with non-emergency car unlock services but check this via a non-emergency line. Do not call 911 even if you know that the police can assist you in your local area. There are legal repercussions for using emergency lines without just cause.
Key Takeaways:
If anyone locked inside the car is in mortal danger, call 911.
Do not call 911 if your lockout has not resulted in a life-threatening emergency.
Even if your local police force unlocks cars in non-emergencies, refrain from using the emergency line.
Final Advice
Car unlock services cost either time or money. And if attempting to unlock your car by yourself damages the vehicle, it will cost you a lot of both. If you have a roadside assistance membership, call them for your options. Everyone else should call a locksmith. The best part about locksmith prices is that they come with free peace of mind.
If you have any further questions about car unlock services, leave a comment below. When you are ready for service, check if United Locksmith services your area!