If you are locked out of your business, you are going to be confronted by a potentially incalculable loss of revenue and productivity. For that reason, every business security budget should include plans for absorbing the cost of fixing locks and replacing keys after a business lockout. But how do you get back inside when you are locked out of your office? To answer that, we have to review the variety of business lockouts and all available solutions.
The quickest fixes for a business lockout include:
Why are you locked out of the office?
The reason for the business lockout directly affects the solutions you have at your disposal. Yes, there are four main options for what to do when you are locked out of your office, but not every office lockout affords you the choice between all four. Once we determine the reason why you are locked out of your business, we can prescribe the remedy.
Misplaced Key – The simplest business lockout to solve is one where the key has simply been misplaced. Depending on where it is, you may be able to get the key back or find your lost key. But if not, you will still have access to all of the options for solving a business lockout. Your lock is functioning normally, so you can have someone retrieve a spare or have the lock opened by a locksmith.
Broken Key – This type of business lockout is similar to having a misplaced key, except perhaps with the additional step of needing to remove the broken key from the lock. You should not attempt to use your broken key in the lock because this risks being locked out of your office for longer. Fixing the broken key is unlikely to be the most viable option for reentry, but a locksmith can copy a broken key.
Broken Lock – You can still have your key and be locked out of your office if you are experiencing door lock problems. It is important to figure out the extent of the issue you are experiencing. For example, is the lock broken entirely, or is it a less severe problem like a stuck door latch. You might be able to temporarily fix a stuck door latch, or similar issue, long enough to get the door open.
Best Ways To Solve An Office or Business Lockout
The most common solutions to being locked out of an office are not necessarily all of the options you have. As mentioned above, your perceived business lockout may not be too severe. If you have a malfunctioning lock, you may be able to get it to work temporarily. If you lost your key, you may be able to retrieve it. But when you are truly and profoundly locked out of your office, try the following methods.
1. Alternate Ingress
If you are locked out of your office, this is likely happening at the main point of ingress (ie. employee entrance). Instead of focusing on the door that serves as your primary method of access, look for other options. An office lockout may be solved by simply going over to the neighboring unit and using the conjoining door between the properties or exploiting flaws in our building's physical security.
A business lockout is going to provide fewer chances for alternate ingress, as compared to a house lockout, which may have open windows or pet doors. But there are still potential options. For example, a bathroom may have a small window that you can crawl through. Or the panic bar on the inside of a fire door may be able to be manipulated by reaching a tool under the doorway.
Key Takeaways:
Besides looking for an open door, you are looking for another way into the building.
Consider open windows or doors that can be manipulated into opening with tools around you.
Some interior handles will always open the door from inside, even with the lock engaged.
2. Other Employees
If there are other employees inside the building, get their attention and let them know you are locked out of the office. However, you may be the only person currently at the location, in which case you will have to call another employee who has a key. This may not work if you cannot reach workers before their shift or on their days off or if you are the only one with a key.
Building the best retail security can sometimes lead managers or business owners to severely restrict key access. And though this protects you from potential employee theft, it also potentially leaves you alone to deal with your business lockout. Current business crime statistics may show customers pose less of a risk than workers, but hiring people you can trust with a key offers a simple solution when you are locked out of an office.
Key Takeaways:
If there are no other employees inside, try to get their attention.
Contact anyone who has a key and see if they can come back to the office.
Weigh the costs and benefits of giving out more keys to employees.
3. Building Management
If you are locked out of your office, it may be possible to contact a building manager who has access to a spare key. This will work similar to contacting another employee, which means they will have to pick up the phone and be available to come to you. Unlike apartment lockouts where there is likely a super on-site, not all commercial properties have property managers who are as quickly accessible.
A building manager does not always retain a key to each property, especially if you have changed the locks on your office doors. Although office security is diminished with each new keyholder, your property manager has a vested interest in protecting your property while it is on their property. In any case, it may be difficult to get in contact with a commercial business manager who has a spare key and can come to you at a moment's notice. And if your lock is broken, building management may need to call a locksmith.
Key Takeaways:
Most building managers keep spare keys so the property can be serviced as needed.
If building management is onsite, they may be able to respond to a business lockout immediately.
In cases where the lock is broken, your building manager may need to call a locksmith.
4. Commercial Locksmith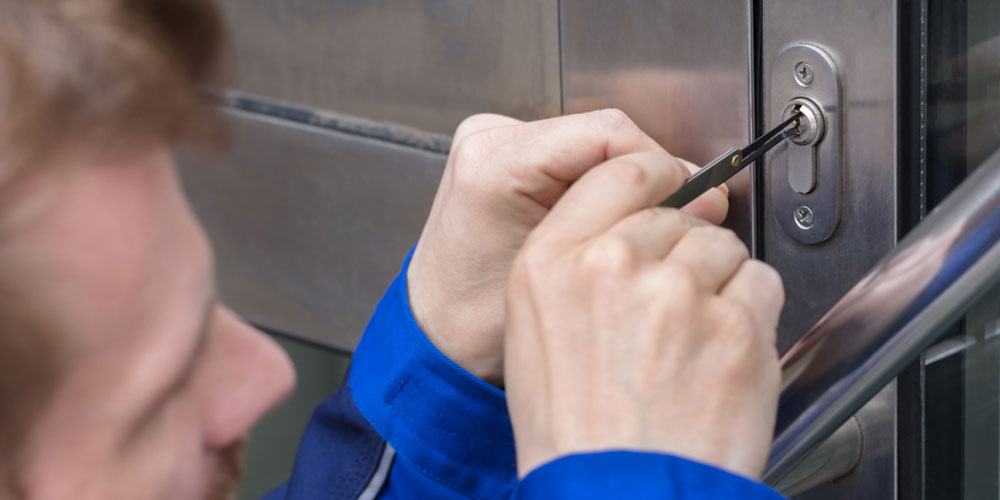 When you are locked out of your office, there is only one phone call you can make to ensure you will solve your business lockout. A commercial locksmith has specialized training to open the higher security locks used in business and office settings. Locksmiths will also be able to help with any other services you need surrounding the business lockout.
A locksmith may be your only option if the reason you are locked out of the office is due to a broken door lock. With a broken lock causing a business lockout, the door will need to be opened in order to be replaced. The opening and the replacement should be done at the same time so your security is not compromised. Just be sure you find the best lockout service near you so the service is done properly.
Key Takeaways:
A commercial locksmith can solve any type of business lockout.
With 24-hour locksmith services, you can solve your lockout no matter your hours of operation.
When you are locked out of your office due to a broken lock, a locksmith is your best option.
FAQs
Does a property manager pay for business lockout services?
Whether or not a property manager pays for business lockout services will depend on the lease and perhaps the local laws. These are similar considerations to a residential renter's right to change locks, which should be detailed somewhere in your lease. But during a business lockout it is unlikely you will have access to this documentation, so ask what your landlord is willing to do.
Will my business's lock need to be replaced after commercial lockout services?
This will depend on the security of the locks you are using. Certain high-security door locks may be too difficult to open via non-destructive means. However, some commercial locks have bypasses that locksmiths can use to circumvent the security of the lock cylinder. A locksmith will not damage any locks without the consent of the customer and will only suggest this as a last resort.
Can a locksmith replace my broken lock if it uses a master key system?
Master key systems are very simple for locksmiths to decode, provided the lock being replaced did not have to be destroyed in order to open the door. Even when the lock being replaced cannot be decoded, a locksmith can use other locks in the master key system to create another master key profile for your lock.
Final Considerations
If you are hesitant to call a commercial lockout service, but your building management is unavailable to solve your business lockout, inquire as to whether they will pay for the locksmith price. It may be stated in the lease agreement that lock changes and security costs are the responsibility of the landlord. Also, consider that the cost of a 24-hour locksmith may be recouped by being able to get your office back to work after the business lockout is solved.