There are many things that you need to know to become a locksmith. It almost feels like an infinite amount of information. But you don't need to learn it all right now. You just need to familiarize yourself with the types of things you should be learning to progress along your locksmithing career path. This goes beyond an introduction to locksmithing or locksmith facts, these are the things you need to be thinking about to start your career, develop your skills, and stay competitive.
What you need to know to become a locksmith includes:
This information will not cover everything that you need to know to become a locksmith, but it should give you the information required to ask all the remaining questions worth asking. There will always be unknowns in any venture, but we are looking to eliminate as many unknown unknowns as possible. With this information, you should not be catastrophically caught off guard by the specific information that you need.
1. Local Laws & Licensing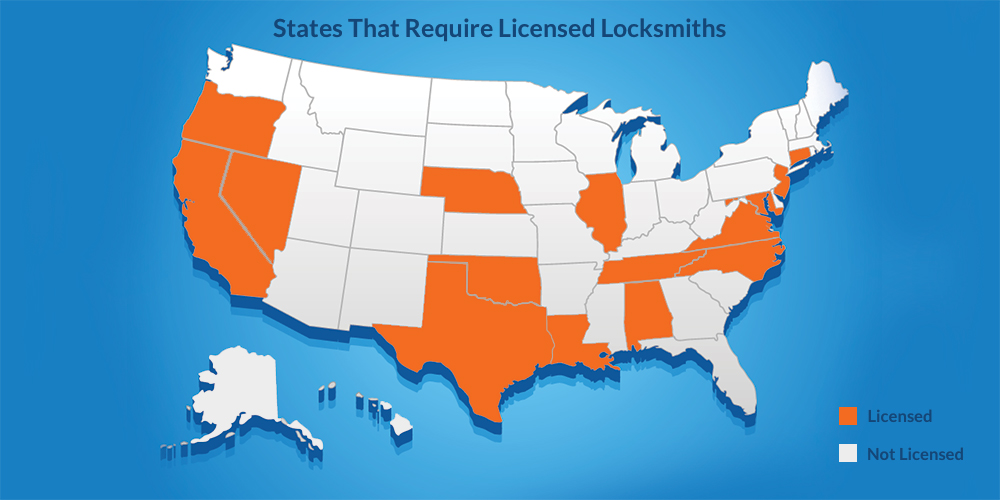 Fifteen states require a license to become a locksmith: Alabama, California, Connecticut, Illinois, Louisiana, Maryland, Nebraska, Nevada, New Jersey, North Carolina, Oklahoma, Oregon, Tennessee, Texas, and Virginia. There are also four cities, which require additional steps to become a locksmith: Hillsborough County, Florida; Nassau County, Long Island; New York City, New York; and Washington D.C.
The extent of differences between state locksmith license requirements is not very expansive. Some states require ALOA (Associated Locksmiths of America) certification to become a locksmith. Other states have their own state-administered tests. Nevada requires the county sheriff of your business location to personally review and sign off on your license. California locksmiths are required to have an additional contractor's license if jobs exceed $500. Look into the specifics when you are applying..
The basic licensing process is to check that all working security professionals do not have prior criminal convictions. There is quite a bit of variety in terms of specific steps and requirements, but with no criminal history and a few fees, you will get your license in most states. And to stay out of trouble with the law, you should also be aware of the lock pick laws in your area. For example, Kansas, Mississippi, and Ohio all have laws about possessing lock pick tools even though there are no licensing requirements to become a locksmith.
Though not every state requires you to have a specific license to become a locksmith, you will need a business license if you want to be self-employed. Each state has different business license requirements, but there are requirements and you need to know how to navigate them. If you only desire to be a locksmith employee, this is not a concern. Non-business owners may also be subject to less stringent application processes.
Key Takeaways:
Check to see the locksmith licensing requirements in your state.
Look into the local laws pertaining to possession of locksmith tools.
If you intend to own a locksmith company, apply for a business license.
2. Certifications & Training
Some states, which require you to be licensed to become a locksmith, will also require certifications to complete the licensing process. However, even if your state does not require this step, locksmith certification is indispensable. A certification can act as an informal license. It demonstrates that you have received training and gives you third-party accreditation to signal to employers and customers that you have the proper skills.
ALOA certification is the most prestigious and is the third-party certification required by states who do not administer testing themselves. Many of the trade schools and locksmith training courses will offer ALOA certification as a part of their program. Training programs without this accreditation are less valuable to new locksmiths. However, I would highly recommend enrolling in some formal training program outside of apprenticeship or work experience.
Additional certifications differentiate you from your competition. And ultimately a certification is more for your clients and customers. You can learn a lot by apprenticing with a working locksmith, but how do you advertise that you have this knowledge? You do it with a third-party's documented review of your skills by way of certification. Customers are looking for these social validation signals to determine if you are worth contacting.
Key Takeaways:
Some states require ALOA certification.
Locksmith training programs should offer ALOA certification.
Certificates advertise and prove your knowledge to potential customers.
3. Buying Tools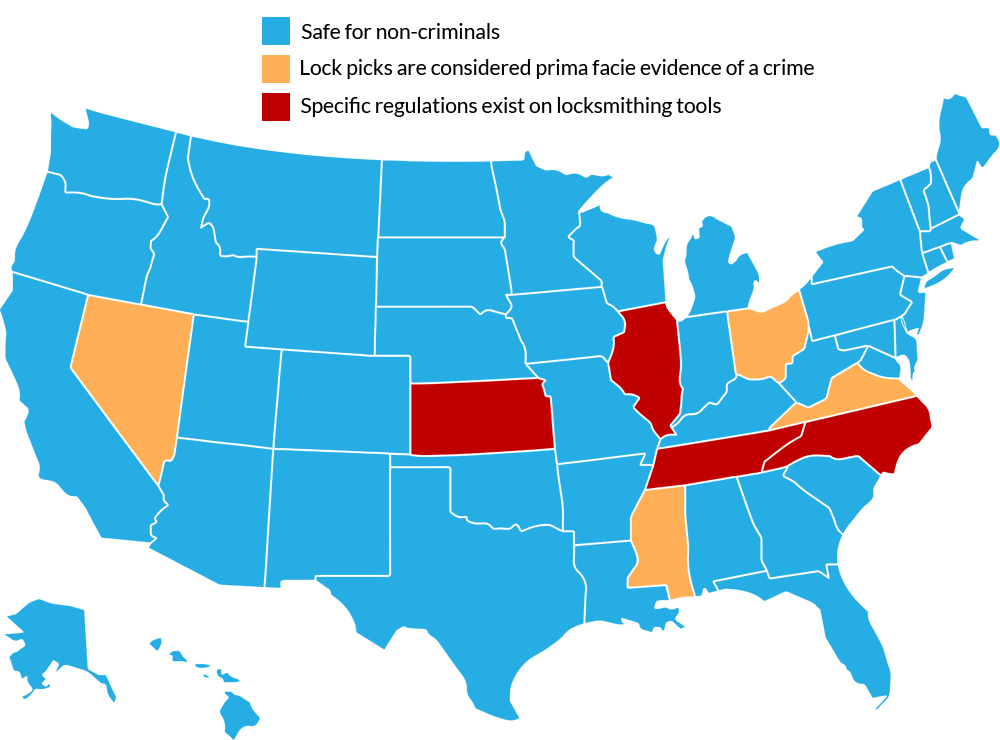 Even if you are just looking to become a locksmith technician, and are not planning to own your own business anytime soon, you are still going to be expected to own certain tools. It is the industry standard that locksmiths own and transport their tools. This is especially true of mobile locksmiths who will have to travel with all their tools. Your employer may be able to provide you with certain machinery, but for the most part, your tools are your own.
You will, of course, need lock picks for home lockouts. A rekeying kit is a must. You will need specialty tools for car lockouts. Specific products will be recommended by your teachers and employer, but be sure that you are buying your locksmith tools from quality companies. When you become a locksmith and are just starting out, it is more important to have good tools. The better your tools, the fewer issues you have to make up for with your talent. You don't want to be constantly making up for a tool's failure.
To become a locksmith there are some power tools locksmiths should own, but the most pressing for a beginning locksmith is going to be a cordless power drill. There are going to be locks that you cannot pick, and as you get better at locksmithing, this number will diminish. But chances are you are not going to start with the skills necessary to open high-security locks, and will need a destructive entry tool. Power tools are in high demand for thieves, so also make sure you are not neglecting the security of your locksmith business by leaving these tools exposed.
Key Takeaways:
It is industry standard for each locksmith technician to own their own tools.
A mobile locksmith will need more tools than a shop technician.
Lock picks, rekeying kits, car lockout tools, and a power drill are the most basic tools for beginner locksmiths.
4. Lock Picking
A locksmith must understand the internal mechanics of the locks they service. And there is no better way to demonstrate that understanding than by being able to pick a lock. Lock picking means more than going through the motions of randomly raking a pin tumbler lock and hoping to get lucky with some rudimentary understanding of tension and manipulation. If you learn how to pick a lock, you are learning how that lock works. And to become a locksmith, you must learn how a lock works.
Once you understand how pin tumbler locks work, you can surmise certain things about pin tumbler varieties such as cruciform locks and tubular locks. Dealing with security pins in high-security locks also becomes easier when you are aware of the types of pins certain brands use. And certain knowledge will save you time, like knowing certain bypasses for euro cylinders so you don't have to pick them. Become a locksmith who uses their knowledge to work smart.
There are also certain types of locks that cannot be opened with standard lock picks. For example, disk detainer locks are a very unique lock type that requires a specialty tool to pick. Barrel locks will also need to be opened with tools other than traditional lock picks. Whether you are fixing a lock or getting it open without a key, you need to understand how it works.
Lock picking is a perishable skill, which means that your abilities will diminish if you do not actively practice. (The opposite of riding a bike.) So you do not just become a locksmith and then you are done. You are always practicing what it took to get you to where you are. And with so many different types of locks and bypass methods, it takes a bit of effort to stay on top of your skills. So while you are learning lock picking, consider building out a plan to continue your studying and practice beyond your initial education.
Key Takeaways:
A locksmith must understand locks well enough to open them.
Learn simple bypasses to avoid more time-consuming picking.
Certain locks require specialty tools to open.
Lock picking is a perishable skill and must be practiced to be maintained.
5. Learning Specialty Skills
The security field is always changing and growing in complexity, which requires anyone who becomes a locksmith to constantly update and expand their services. Nowadays, locksmiths need many specialized skills to stay competitive. To offer all commercial locksmith services, locksmiths have to be familiar with servicing, installing, and opening electronic locks. If you don't service every type of lock, then you can't get every job that comes in.
The most important specialty skill to have when you become a locksmith is safe opening. Many people these days need a safe locksmith, and this is one of the most guarded areas of study. You will find very little free information out in the wild about opening safes. And though books are good resources it can be difficult to get the practical experience needed to truly understand the text. Look into training programs that cover safe opening and manipulation.
Study the market you service, and find out which specialty skills are in demand. You don't want to go through all the complex studying of forensic locksmith services, just to find out there are no opportunities for this type of work. You also have to consider inventory investment if you offer certain services. For example, many locksmiths now service and install security cameras, but this requires an inventory of parts and products. Skills like picking car locks, which become less and less useful as cars move away from keyed cylinders entirely.
Key Takeaways:
As the security field changes, you will need to grow your skill base.
Specialty skills worth learning include, electronic lock services, and safe locksmithing.
Consider your customer base before offering security cameras and forensic locksmith services.
6. Competitive Pricing
Everyone is looking for the best service for the lowest price possible, and the immediacy of online price comparison is only exacerbating this instinct. Even in emergencies, customers can suffer from sticker shock, which makes them decide against using your service. So how do you confront this? You have to do your research. Look at your competitor's complete list of locksmith service prices, and beat them or match them.
If you can't beat or match your competitors' prices, then see if you can work with them. Locksmith businesses are always looking for high-quality technicians to expand the area of their operation and extend their service hours. When you cannot figure out a way to run your business as efficiently as your competitors, you will be well served by continuing your education in the business end of locksmithing. This type of knowledge becomes invaluable when natural disasters like COVID-19 cause changes to the locksmith industry.
Pricing is at the heart of any business's success because it signals both your value and the fairness that people can expect when working with you. Keep in mind that your fairness has to extend to your employees and your customers. Value is often communicated to your staff through financial compensation. So if you see that your competitors are not fairly compensating their employees, this may allow you some room to compete by competing with how your competitors price their employee salaries.
Key Takeaways:
Even emergency service customers will be dissuaded by high service costs.
If you cannot beat or match your competitors, offer them your services.
Keep in mind that fair prices have to be fair to workers as well as customers.
7. Hours of Operation
Many locksmith and security services fall under emergency services, which can crop up at any hour of the day. For that reason, it is important to be open and available twenty-four hours a day, seven days a week. You should not close the business on any holidays, as the ensuing events and festivities often result in an uptick in service requests. The longer you can be open, the more of a resource you are to your customers. Part of the expectations of calling a locksmith is getting service fast when you need it.
You can only service a fixed number of customers in a given area, and you will have to turn down jobs due to distance or scheduling conflicts. So offering 24-hour service is your only way to expand the number of jobs you and your crew can take on. 24-hour emergency locksmith service costs are increased due to their non-standard nature, and the need to incentivize technicians to offer this.
So if you are looking to break into the locksmith industry, it is imperative to be open for as many hours as possible. In cases where you are a single-person operation, you may not be able to stay open at all hours of the day. You could just stay on call 24/7, but that is not always realistic. Consider instead, looking for times your competitors are not open and try to service those times.
Key Takeaways:
People need locksmiths at all times of the day.
Locksmiths should be open during holidays.
Services rendered during non-standard business hours must be more expensive.
If you cannot be on call 24/7, find the most in-demand hours in your area.
8. Navigating Negative Customer Interactions
To become a locksmith, you also have to become somewhat of a counselor. You are interacting with people who are in very vulnerable and emotionally heightened states. Any kind of security-related problem can leave individuals feeling exposed and place them on edge. So you must be understanding of this and work to calm them, or at the very least not cause further conflict and aggravation. Often the most contentious part of the interaction will be found in the discussion of service costs. So take steps to improve your customer service as a locksmith.
Once you have gotten good at your craft by investing your time and resources properly, you are going to be able to work very quickly. But be aware that working quickly can signal to some customers the opposite of your value. Culturally, most people believe that what can be done fast is simple or easy. People may believe that "If time is money, fast work should be cheap." Under this false assumption, customers can become belligerent and demand a discount or in extreme cases refuse to pay (even though they had already agreed to the service and price).
This mindset incorrectly disregards the time and investment necessary to be able to work quickly, but the sentiment is understandable even if it is wrong. So it is important to anticipate these issues and develop a preamble or postscript when customers ask these types of confrontational questions. Know your value. Know that your prices are competitive. And speak from that self-assurance and not from a place of condescension or defensiveness. (Easier said than done, but calmness and grace are the goals.)
Reviews are the backbone of the service industries, so you need as many happy customers as possible. So locksmiths need to have the strength of character to rise above a customer's poor behavior. In the case of customers who are not honest actors and attempt to alter agreements and disingenuously cry afoul. Their reviews are often clearly written in bad faith. Do not become overly fixated on falsely negative reviews, as most potential customers understand the reputational costs of interacting with the general public.
Key Takeaways:
Customers who need locksmith services often are in an emotionally heightened state.
Work to make customers feel secure while working on their security.
Interactions are likely to be most contentious when discussing service costs.
Do not overly fixate on negative reviews, which were written in bad faith.
Closing Words
If you have made it this far, I want to congratulate you on gaining a more complete awareness of what it takes to become a locksmith. You can treat this article like any online resource to improve your locksmith skills and refer back to it as you progress through your journey. Because if you can internalize these concepts, you will be a great locksmith. And that is what you really need to know as you become a locksmith. You need to know what makes a great locksmith and strive for that. Best of luck!